Campgrounds in France

15140-Saint-Martin-Cantalès / Auvergne / France
A small and quiet campsite at a big lake. Canoe rental Mobile home rental
Places: 30Open: 05/05 - 09/16/2017


87310-Cognac-la-Forêt / Limousin / France
The camp-site lies in the regional nature park Perigord-Limousi
Places: 68Open: 04/01 - 09/30/2010


63690-Singles / Auvergne / France
: This very spacious and well maintained campsite is set in a beautiful wooded valley beside the Burande river, close to the upper Dordogne valley, between the very big lake of Bort les Orgues and...
Places: 59Open: 04/08 - 09/17/2017


83530-Saint-Raphaël / Provence-Alpes-Côte d'Azur / France
Places: 30Open: 03/15 - 10/16/2010


14750-Saint-Aubin-sur-Mer / Basse-Normandie / France
Camping Côte de Nacre is situated on an attractive leafy 10 hectare site, just 500m from the beach. The Côte de Nacre, Deauville, Bayeux, Mont St Michel… there's so much to see nearby!...
Places: 150Open: 03/31 - 09/10/2017


85300-Le Perrier / Pays de la Loire / France
A 4 star campsite in Saint Jean de Monts in the Vendée. Your campsite welcomes you with your family for a beautiful holiday on the Atlantic coast. Enjoy the indoor swimming pool, the fishing pond...
Places: 160Open: 04/01 - 10/31/2017


56470-La Trinite Sur Mer / Brittany / France
Camping de la Plage, a 4-star campsite in La Trinité sur Mer near Carnac in South-Brittany What adds to the charm of our campsite ? Direct access to the beach The care we take in...
Places: 118Open: 05/05 - 09/17/2017


67150-Gerstheim / Alsace / France
Places: 97Open: 04/01 - 10/29/2017


33680-Lacanau / Aquitaine / France
350m from a lovely fine sandy beach, you'll enjoy a holiday in the heart of the countryside, in immaculate surroundings and in the shelter of a 14 ha pine-forest. Savour the delights of the water...
Places: 281Open: 04/21 - 09/17/2017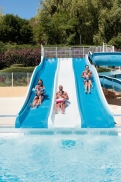 04120-Castellane / Provence-Alpes-Côte d'Azur / France
A privileged environment: In the heart of the Regional Parc of the Verdon, at the entrance to one of the largest canyons in the world, enjoy the magnificent natural surroundings. Water is all...
Places: 340Open: 05/13 - 09/17/2017

Links
Surrounding
Popular searches