Campgrounds in France

87310-Cognac-la-Forêt / Limousin / France
The camp-site lies in the regional nature park Perigord-Limousi
Places: 68Open: 04/01 - 09/30/2010


83530-Saint-Raphaël / Provence-Alpes-Côte d'Azur / France
Places: 30Open: 03/15 - 10/16/2010


85300-Le Perrier / Pays de la Loire / France
A 4 star campsite in Saint Jean de Monts in the Vendée. Your campsite welcomes you with your family for a beautiful holiday on the Atlantic coast. Enjoy the indoor swimming pool, the fishing pond...
Places: 160Open: 04/01 - 10/31/2017


67150-Gerstheim / Alsace / France
Places: 97Open: 04/01 - 10/29/2017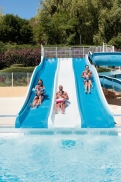 04120-Castellane / Provence-Alpes-Côte d'Azur / France
A privileged environment: In the heart of the Regional Parc of the Verdon, at the entrance to one of the largest canyons in the world, enjoy the magnificent natural surroundings. Water is all...
Places: 340Open: 05/13 - 09/17/2017


76740-Bourg Dun / Haute-Normandie / France
Places: 0Open: 04/01 - 10/02/2016


86190-Chalandray / Poitou-Charentes / France
If its rest and relaxation you?re looking for, we are sure that our family-owned and managed campsite is an ideal choice for your holiday or short break. Within the peaceful seventeen-acre forest...
Places: 38Open: 05/01 - 09/29/2014


19190-Aubazines / Limousin / France
A three-stars campsite. a leisure park in a leafy glade... right in the middle of the region's most attractive leisure park, campéole le coiroux nestles in a casket of greenery and forests, just...
Places: 94Open: 04/29 - 09/30/2016


40560-Vielle-Saint-Girons / Aquitaine / France
Deep in the heart of the Landes forest and on the shores of the beach that seems to go on and on… For a complete change od scenery but with all the comfort you need, Campéole Les...
Places: 495Open: 04/01 - 09/30/2016


35430-Saint-Jouan-des-Guérets / Brittany / France
Places: 275Open: 04/01 - 09/18/2016