Campgrounds in France

19400-Argentat / Limousin / France
In a luxuriant and protected valley, our campsite, bordering the river Dordogne, offers you a great comfort with a family atmosphere. A whole range of sports (football, tennis, ping-pong,...
Places: 120Open: 05/01 - 09/21/2013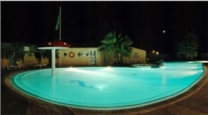 34450-Vias / Languedoc-Roussillon / France
Places: 0Open: 04/10 - 09/27/2015


63670-Orcet / Auvergne / France
Camping le clos auroy, found in the heart of France, in the region of the Auvergne and the Puy de Dôme county. The camp is conveniently located and close to everything you are looking to visit....
Places: 85Open: 12/01 - 01/01/2016


56250-Monterblanc / Brittany / France
Places: 0Open: 01/01 - 01/01/1970


53400-Craon / Pays de la Loire / France
Craon, flowered city near Anjou and Brittany accommodates you with a particular care. Its calm and shaded campsite is near a water level appreciated of the fishermen, walkers and children. In the...
Places: 27Open: 05/01 - 09/21/2015


43800-Vorey / Auvergne / France
Well situated in the Gorges of Loire, here you'll enjoy quietness and nature. The campsite is located along the river (Loire) where you can go swimming. The swimming-pool in front of the bar...
Places: 100Open: 04/03 - 09/28/2015


03230-Gannay-sur-Loire / Auvergne / France
On our estate there is a flat grass-field, approximately one hectare in size that has 25 car-free pitches available for camping, under the trees or in the open field it's you who decides where to...
Places: 25Open: 11/30 - 11/30/-1


19260-Veix / Limousin / France
See our site www.le-fayard.com
Places: 30Open: 05/01 - 10/15/2015


85360-La Tranche-sur-Mer / Pays de la Loire / France
The « Cottage fleuri » campsite is located at the heart of the village « La griere plage »,itself situated by La Tranche sur mer. It is a green and landscaped park. 500 meters away from...
Places: 299Open: 04/11 - 09/27/2015


85160-Saint-Jean-de-Monts / Pays de la Loire / France
Places: 174Open: 04/26 - 09/30/2015