Campgrounds in Spain

03560-El Campello / Valencian Community / Spain
Parking Caravaning Camping Bon Sol - Open all year. Cosy campsite located at 100 m. Muchavista the beach with good communications: Stop 'Fabraquer' TRAM-Denia Alicante, Alicante Renfe-bus 21and...
Places: 35Open: 01/01 - 01/01/2050


25551-Era Bordeta / Catalonia / Spain
The campsite is situated in the heart of la Val d'Aran (Pyrenees), in the LLEIDA province, at a height of 900m on the N-230 road Kp. 174.4, 10 km from Vielha and 12 km from the French border. 4km...
Places: 150Open: 01/01 - 01/01/1970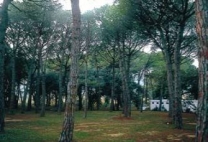 17251-Calonge / Catalonia / Spain
Places: 70Open: 05/15 - 09/11/2015


47100-Tordesillas / Castille and León / Spain
Camping & Bungalows EL ASTRAL 2015: Open all year Campsite El Astral, first rate, the ideal setting for visiting Valladolid and Castile. Campsite El Astral, green tourism. In the centre...
Places: 150Open: 01/01 - 12/31/2015


18417-Trevelez / Andalusia / Spain
Campground situated in the heart of Sierra Nevada´s Natural park at 1560 mts. 100 plots, 8 bungalows and cabins, bar-restaurant, swimminpool, children´s playgroung, small grocery shop. Free wifi.
Places: 100Open: 01/01 - 01/01/2009


48360-Mundaka / Basque Country / Spain
The Portuondo campsite is located in Mundaka, a municipality in the district of Biscay known as Urdaibai. This area of outstanding natural beauty brings together a combination of beaches,...
Places: 70Open: 01/26 - 12/12/2015


17256-Pals / Catalonia / Spain
Camping Playa Brava is a campsite located in the heart of the Costa Brava, right next to the beach of Platja de Pals and the Basses d'en Coll nature reserve. The campsite offers you first-class...
Places: 750Open: 05/16 - 09/13/2015


17405-Espinelves / Catalonia / Spain
We are open and welcome you on weekends and in summer. We can open for you at other times, if you contact us at campinglabalma@yahoo.es La Balma is a camping located in the middle of the...
Places: 85Open: 01/01 - 12/31/2015


30880-Aguilas / Murcia / Spain
Our camp site offers free hot water 24h, drinking water in the pitches, a laundry with washing machine and dryer, a game room with pool table, tv, coffee machine, tables and benches, a playground...
Places: 65Open: 01/01 - 12/31/2014


29400-Ronda / Andalusia / Spain
Places: 100Open: 01/01 - 12/31/2014