Campgrounds in Sweden

57003-Vrigstad / Jönköpings / Sweden
Places: 0Open: 05/04 - 10/01/2015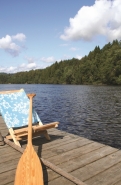 68493-Ransäter / Värmlands / Sweden
Places: 49Open: 04/30 - 09/20/2014


68594-Torsby / Värmlands / Sweden
Beautifully situated family-owned campground at the foot of the Hovfjället nature reserve. Close to hiking paths, ski resort and fishing lakes. Pool, playground, wood-fired sauna and free wireless...
Places: 28Open: 01/01 - 12/31/2010


82020-Ljusne / Gävleborgs / Sweden
You find Ljusnefors Camping nearby the village of Ljusne The campsite is situated at the east coast at the end of the Ljusnan river. We have our own harbour with access to the sea. Ljusnefors...
Places: 80Open: 01/01 - 12/31/2013


34394-Älmhult / Kronobergs / Sweden
Places: 0Open: 01/01 - 12/31/2021


68591-Torsby / Värmlands / Sweden
In Mårbacken / Lekvattnet, right in the magnificent countryside of Värmland (Central Sweden) is "Nya Skogsgården" located - with hostel and nature-camping.You can enjoy the natural beauty in our...
Places: 48Open: 01/01 - 12/31/2013


81491-Gävle / Gävleborgs / Sweden
Hedesunda Camping, close to Hedesunda village, creates an atmosphere of a wonderfully landscaped park. It is a quiet camping ground, located remarkably beautiful on a lakeside, with its own jetties...
Places: 100Open: 04/30 - 10/31/2013


11733-Stockholm / Stockholms / Sweden
Places: 0Open: 01/01 - 01/01/1970


24293-Hörby / Skåne / Sweden
Places: 0Open: 01/01 - 01/01/1970


69597-Tived / Örebro / Sweden
Places: 0Open: 01/01 - 01/01/1970

Links
Surrounding
Popular searches