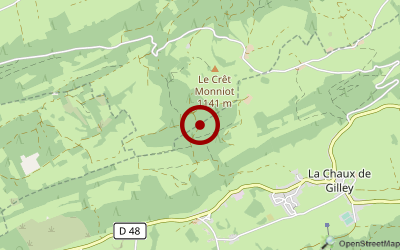 Open from-to: 01.April bis 31.Oktober
Comparison price: 37,56 Euro ( price per night with car, caravan und 2 adults and 1 child in the main season incl. all costs. )
Views (Last 30 days): 26
Description:
The 5***** "Lac des Brenets" terraced campground awaits you in the most beautiful area of the Jura. Come join us for an active and relaxing vacation!

The campground is situated in a quiet, natural setting with a magnificent view of the lake and the sinuous course of the Doubs.

The "Lac des Brenets" terraced campground offers a total of almost 200 sites for short-term visitors (tents, caravans or motor homes), caravans, mobile homes and mobile chalets.

Our short-term sites are available from 1 April – 31 October. Our sites for caravans, mobile homes and mobile chalets are available throughout the entire year.
Surrounding:
Les Brenets is primarily a quiet and to some extent a wild nature and recreation area and an ideal starting point for a variety of interesting excursions. Whether by bike, on foot or by boat, you will enjoy exploring the beauty of nature, rich in fauna and uncommon flora.
Route:
via La Chaux-de-Fonds - Le Locle
dimension
size: 35000 ha brutto
Places: 188

Sanitary:
sink unit (hot)
Wash basin (warm&cold)
wheelchair-accessible
Wash basin (cold)
Toilet
Washing machine
Wastewater for camper
Shower (cold)
sink unit (cold)
Shower (warm)
Shopping & Restaurants:
Snack Bar
supermarket (small)
Restaurant / Bar
Sports, Gaming & Fitness:
Football
Tennis
Table tennis
Surrounding:
shingle beach
subdivided campsites
quietly situated
sunny campsites
grass soil/floor
General:
Public phone
disclosure with passport
WLAN-Internet
lighted lanes and streets
permanent camping
dogs allowed (additional charge)
card phone
Siesta
Camping guides:
ECC
ACSI
ADAC-Campingguide
DCC e.V.