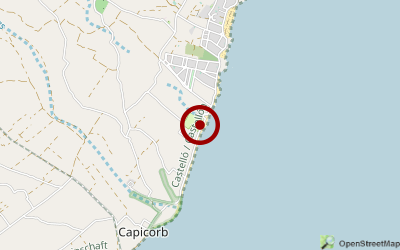 Open from-to: 01.Januar bis 31.Januar
Comparison price: 53,00 Euro ( price per night with car, caravan und 2 adults and 1 child in the main season incl. all costs. )
Views (Last 30 days): 96
Description:
Our campsite has a beautiful tropical atmosphere, perfect for your rest. The perfect place for your holiday! With an unmatched comfort and service. Directly on a beach with golden sand.

As a park with tropical vegetation, parrots, statues and waterfalls, where the dream becomes realit

Surrounding:
We are in one of the most beautiful places of the "Costa de Azahar" in Spain, in front of the beach, surrounding of almonds, oranges and olive fields far from the noisy.
Route:
250 km. south of Barcelona (20 km. south from Peñiscola), motorway exito number 44, continue by national road N-340 for 3 km. northwards and at km. 1018, take direction Alcossebre. The Camping is situated at Playa Tropicana at 3 km. at south from Alcossebre (Castellón) at the Costa Azahar.
dimension
size: 3 ha brutto
Places: 390

Sanitary:
Shower (warm)
Wash basin (warm&cold)
Toilet
Washing machine
Wastewater for camper
sink unit (hot)
wheelchair-accessible
Shopping & Restaurants:
Pizzeria
Restaurant / Bar
Snack Bar
supermarket (large)
Sports, Gaming & Fitness:
Bike rental
Billard
childrens playground
Table tennis
Surrounding:
quietly situated
sandy beach
directly on the beach/sea
hard,stony soil/floor
General:
Campground guarded
winter camping
disclosure with passport
WLAN-Internet
Internet access
lighted lanes and streets
pay phone
permanent camping
Siesta
Camping guides:
ECC
ACSI
ADAC-Campingguide
Campingcard ACSI
DCC e.V.
accommodation:
bungalow
rooms / apartments

Download Information