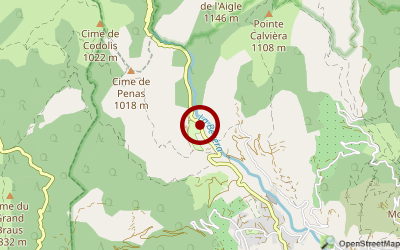 Open from-to: 01.April bis 30.September
Comparison price: 36,50 Euro ( price per night with car, caravan und 2 adults and 1 child in the main season incl. all costs. )
Views (Last 30 days): 8
Description:
Let yourself be seduced by the charm and hospitality of Domaine Sainte Madeleine.
At 15 km from the Côte Azur, on the edge of the Mercantour National Park, is located Sospel (380 m high), a lively town situated in the heart of a broad green Valley, enjoying a Mediterranean climate.
Domaine Ste Madeleine is a family campsite located at 4 km from the village Sospel. The campground has only 90 places on 4 hectares of defined terraced fields and trees.
The swimming pool (20 m 8 m), heated in the spring and autumn is free and reserved for our campers.
Domaine Sainte Madeleine offers an excellent accommodation for a holiday with several options for the whole family.
Surrounding:
The beautiful coastline between Menton and Cannes is worth a visit while the Maritime Alps invites walks, for example in the Vallée des Merveilles (literally means valley of wonders) where the fantastic images eng raved in the rocks can be admired. Cultural: museums, parks and gardens, old houses and historic sites gives this region a special cultural dimension, the fabulous living, gastronomy is the ubiquitous tradition that made him popular. Sport: in a beautiful environment you can mountain climbing, horse riding, hang-gliding, paragliding, mountain biking, fishing, canyon outputs a perfect custom and secure location. With more than 300 km of marked hiking trails ar e maintained and even the most demanding hiker satisfied.
dimension
size: ? ha brutto
Places: ?

Sanitary:
Wastewater for camper
wheelchair-accessible
Shower (warm)
Wash basin (warm&cold)
Toilet
Washing machine
Surrounding:
grass soil/floor
shadowy campsites
sunny campsites
General:
dogs allowed (additional charge)
WLAN-Internet

Download Information