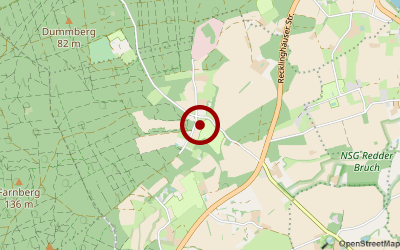 Open from-to: 01.Januar bis 31.Dezember
Comparison price: 25,00 Euro ( price per night with car, caravan und 2 adults and 1 child in the main season incl. all costs. )
Views (Last 30 days): 22
Description:
For many years, Freizeitpark Klaukenhof with its restaurant and beer garden has been a popular meeting place for families and travellers in their leisure time. Bicycle fans can use the park as starting point for a 350 km long cycling-tour through the whole Ruhrgebiet or choose the Cycle-Track alongside the Dortmund-Ems-Kanal which connects the Ruhrgebiet with the Northsea. A canal becomes an adventure...

More and more camper, hiker, and biker groups from whole Germany and even from the Netherlands stay here for a stopover to become acquainted with the biggest European canal junction with its unique landscapes the historical industry route, the diversified cycling routes and striking sights in the surrounding area.

In addition to that the abutting "Münsterland" beyond the river Lippe and the copious forest "Haard" are much-loved.

People who are interested in great cultural events or in an enormous number of sports events in the huge cities of the "Ruhrgebiet" have a great basic position from the Freizeitpark Klaukenhof.

At the beginning of the nineties the campsite "Freizeitpark Klaukenhof" was fully verified and modernized. These were the first important steps for becoming a famous destination of the outing.
The whole campsite is completely integrated in the nature and the landscape.


Surrounding:
Our campsite is located in Datteln in the northeast of the Ruhrgebiet, very close to the Münsterland with a beautiful countryside. The location next to the "Dattelner Meer", the biggest European canal junction, and the good connection to the Autobahnen A2 and B235 expresses another attractive attribute for our Park. That is what makes our park special: on the one hand directly in the nature, but on the other hand not far from the melting pot Ruhrgebiet.
dimension
size: 5 ha brutto
Places: 20

Sanitary:
sink unit (cold)
Shower (warm)
sink unit (hot)
Wash basin (warm&cold)
wheelchair-accessible
Wash basin (cold)
Toilet
Washing machine
Wastewater for camper
Shopping & Restaurants:
Snack Bar
Restaurant / Bar
Sports, Gaming & Fitness:
Volleyball
Football
childrens playground
pokies/slot machine
Table tennis
Surrounding:
subdivided campsites
quietly situated
shadowy campsites
sunny campsites
soft soil/floor
centrally located
grass soil/floor
General:
winter camping
WLAN-Internet
lighted lanes and streets
Campground guarded
permanent camping
dogs allowed (additional charge)
pay phone

Download Information