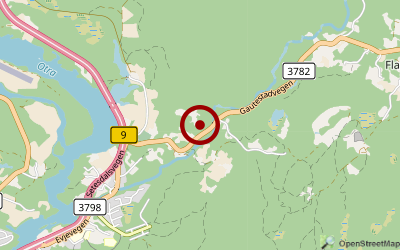 Open from-to: 01.Januar bis 31.Dezember
Comparison price: 18,00 Euro ( price per night with car, caravan und 2 adults and 1 child in the main season incl. all costs. )
Views (Last 30 days): 13
Description:
Quiet, small camping place.

Place for up to 20 units.
Nice place for Mobile-homes with all facilities.
Power connections.
6 cabins with 2-5 beds for rent.
Barbeque and fire place.
Free warm showers.
Free use of a kitchen.
Stonecutting workshop to visit.
Mineral shop.


Surrounding:
Our camping has a good standard but no children's playground, it is a quiet place in the middle of the forest with nice walking possibilities. All year open. Mineral collecting places arround the town. The Mineralsti is in 10 min. distance Flaat-gruver, old underground mine to visit. About 5 km further on this road you will find a serrounding were you can see Elg ( Moose) in the evening. Some more on this road the are nice lakes to have a swim. The forest arround our place is full of blueberries and other wild berries. The surrounding of Evje and Iveland is known for the collecting of minerals. Several mines are open for stone interested people against a collecting fee, for example the Mineralsti and Slobrekka gruver, further you can find several mineral museums, Fennefoss Geo Museum, the Setesdal Mineralpark and the community collection in Iveland.
Route:
The Oddestemmen Steinsliperi og Camping is situated in the south of Norway, 60 km to the north of Kristiansand, follow road nr. 9 into Setesdal Valley. You find the camping 3 km north of Evje, take at the church the road to Gautestad and "gruveområde", 1 km.
dimension
size: 1 ha brutto
Places: 20

Sanitary:
wheelchair-accessible
Shower (warm)
Wash basin (warm&cold)
Toilet
Washing machine
Wastewater for camper
sink unit (hot)
Surrounding:
grass soil/floor
quietly situated
shadowy campsites
sunny campsites
General:
WLAN-Internet
lighted lanes and streets
Campground guarded
dogs allowed (additional charge)
Internet access
winter camping
accommodation:
bungalow
rooms / apartments

Download Information