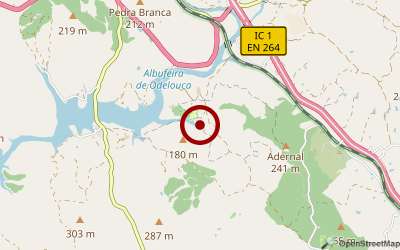 Open from-to: 01.Januar bis 01.Januar
Comparison price: 17,80 Euro ( price per night with car, caravan und 2 adults and 1 child in the main season incl. all costs. )
Views (Last 30 days): 28
Description:
Quinta Odelouca is a small rural campsite in the Algarve region, a few minutes? drive from São Marcos da Serra(2,5 km) and 35 km from the south coast. It has a beautifull view on the valley of the Odelouca and the hills of the Serra de Monchique. It is equiped for campers, caravans and tents. There is a small swimmingpool and we have 2 tents for rent.
Surrounding:
Quinta Odelouca is situated in a hilly area with small villages from former times, small-scale agriculture and shepherds with sheep and goats. During hiking or mountainbiking tours through this area you have to cross the Ribeira de Odelouca and a lot of other small brooks. The Odelouca becomes a future barragem (2012) where you can swim, canoe and fish.
Route:
Coming from Ourique you pass São Marcos da Serra. After about 2,5 km you see to your right a blue bridge across the railway (km 710,5, GPS N 37°20?06? W 008°20?48?). Turn right and cross the blue bridge. From that point follow the signs. Coming from Faro take the motorway (A 22 direction Sagres). Take exit 9 Lisboa, Ourique, IC1. Follow the IC1 passing SB de Messines until Monte das Pitas. After about 400 metres turn left and cross the blue railway bridge. From this point follow the signs.
dimension
size: 2 ha brutto
Places: 30

Sanitary:
Wastewater for camper
sink unit (hot)
Shower (warm)
Wash basin (cold)
Toilet
Washing machine
Shopping & Restaurants:
Snack Bar
supermarket (small)
Sports, Gaming & Fitness:
Surrounding:
sunny campsites
hard,stony soil/floor
quietly situated
shadowy campsites
General:
WLAN-Internet
disclosure with passport
lighted lanes and streets
Camping pass enough
dogs allowed (additional charge)

Download Information