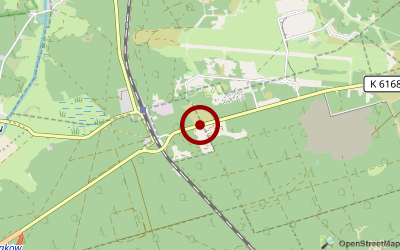 Open from-to: 01.Januar bis 31.Dezember
Views (Last 30 days): 16
Description:
Tropical Islands Campsite

Enjoy an unforgettable camping holiday just walking distance from the Tropics. The Tropical Islands Campsite offers a wide range of options. You can bring your own tent or rent one of our tepees. Alternatively, come with your own caravan or motorhome and park on a special pitch. Or rent a fully furnished mobile home for an exclusive camping experience.

Best of all, admission to the Tropical World at Tropical Islands throughout your stay is included in all our packages.

The Campsite has its own special CampShop for all your day-to day needs, including freshly baked bread. A full breakfast is available in the Bistro. And there's plenty for our younger guests to enjoy on the adventure playground.



Surrounding:
Round and about Tropical Islands There are plenty of exciting places to visit within easy reach of Europe's largest tropical holiday world. The Spreewald The Spreewald forest – a unique natural landscape shaped by humans – lies just 7 km from Tropical Islands. The Spreewald is a very special place. One of the fascinating things about it is that, along with Lusatia, it's home to a small Slavic ethnic group: the Sorbs. The Spreewald is criss-crossed by around 300 small channels that form a unique maze of waterways. It was designated a biosphere reserve by UNESCO in 1991 and is under special protection. There are lots of great ways to discover the Spreewald. You can glide gently down the water channels in a traditional Spreewald punt, or take a paddle boat tour. If you're feeling more adventurous, you can also hire a canoe or kayak. There are unlimited options for hiking and walking through the forest landscape. Fancy a spot of Nordic walking? However you visit, you'll love the dark forests and open meadows that line the picturesque waterways. The Spreewald is great for cycling too. And there are some 50 km of tarmac trails that can be used by inline skaters – a great way to discover the forest. The Spreewald is fantastic in winter too. The snow turns the forest into a winter wonderland. You can skate on the frozen channels, or how about a walk across the ice or a romantic boat trip for two? Spreewaldring Go-Kart Center The Spreewaldring Go-Kart Center offers guaranteed fun and excitement. The 800 metre long go-kart track is located close to Tropical Islands. Come and test your driving skills. Enjoy a thrilling, unforgettable ride! Flaeming-Skate Flaeming-Skate is a special 210 km route designed for inline skaters and cyclists, situated in the Teltow-Fläming district. Its tarmac route leads through fantastic scenery in the Baruth glacial valley and Niederer Fläming. A real getaway from the noise of the big city. The Dahme-Seen Lake District The Dahme-Seen Lake District offers a wide range of options for excursions. It has the most water of any area in the region. The Dahme-Heideseen Nature Park, covering an area of 594 km2, is one of 15 major nature reserves. It is home to large expanses of woodland and more than 100 lakes of over one hectare in size – a real paradise for fans of water sports and fishing! Enjoy a trip through the ten interconnected lakes of the "Teupitz waterway" by canoe or steamboat. The Niederlausitzer Landrücken Nature Park is another area of unique beauty. The park covers an area of 587 km2 and is located in the north west of Lower Lusatia. It is home to one of the largest areas of almost uninterrupted forest in the south of Brandenburg.
Route:
Getting there To get to Tropical Islands by train, take one that stops at Brand Tropical Islands train station. To get here by car head south from Berlin-Schönefeld for around 50 km on the A 13 (Berlin-Dresden motorway). Come off the motorway at the Staakow exit and follow the signs to Tropical Islands for a further three kilometres. Access roads to Tropical Islands are cleared of snow in winter so you can reach us comfortably. If you have booked one of our Mobile Homes or another accommodation at the Campsite you need to check in at the reception of the Tropical Islands Campsite. If you have booked an accommodation in the Tropical Islands Dome you need to check in at the reception of the Tropical Islands Dome. From the station Brand Tropical Islands, a free shuttle bus takes you to Tropical Islands. The shuttle´s schedule is adjusted to the trains. To find out how to get to Tropical Islands by train, please contact Deutsche Bahn.
dimension
size: 6 ha brutto
Places: 92

Sanitary:
sink unit (cold)
sink unit (hot)
Shower (warm)
Wash basin (warm&cold)
Toilet
Washing machine
Shopping & Restaurants:
Snack Bar
supermarket (small)
Restaurant / Bar
Surrounding:
subdivided campsites
shadowy campsites
sunny campsites
soft soil/floor
grass soil/floor
General:
dogs allowed (additional charge)
Siesta
WLAN-Internet