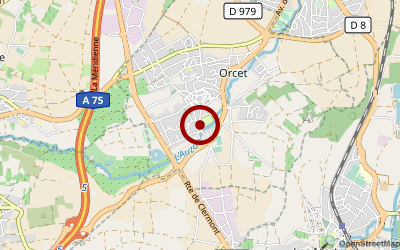 Open from-to: 01.Dezember bis 01.Januar
Comparison price: 30,50 Euro ( price per night with car, caravan und 2 adults and 1 child in the main season incl. all costs. )
Views (Last 30 days): 23
Description:
Camping le clos auroy, found in the heart of France, in the region of the Auvergne and the Puy de Dôme county. The camp is conveniently located and close to everything you are looking to visit. Including volcanoes, rivers, lakes, old villages and towns. At the camp itself, you almost everything you need for an excellent holiday, Heated pools, snack bar, bar, aniamtie for large and small, free wifi and much more! I encourage you to visit our web site so you have more information. We hope to soon.

At the campsite you will find everything you need for an excellent holiday. As, entertainment for young and old, children's club, table tennis tables, children's playgrounds, trampoline, several heated pools, heated sanitary facilities and many new details about the environment (including translated in dutch walking and driving routes). Excellent large pitches, all fenced with a hedge. It also has the ability to place any electrical connection of a 5 or 10 amps. From any point is the bathroom, a water point, reception and swimming pools within easy walking distance. You'll see the camp clos auroy everything is done to your convenience during your vacation.
Surrounding:
The camp-site is situated within two Nature Reserves, namely the "Park des Vulcan's d'Auvergne" and the "Park Natural Regional Livradois Forest". The "Park des Vulcans", is the most famous due to the "Puy de Dome" known for the Tour de France. In this unique area with its almost 80 volcanoes, you will see craters, brooks, lakes, rivers and splendid views, Romanesque villages and many castles. This area is unique and you can take a lot of beautiful walks (± 600 miles of walks). It really is an Eldora do for the lovers of nature.
Route:
It is quite easy to reach our camp-site. It is situated about eight kilometers south of Clermont-Ferrand, just off the A75 motorway. From A75 (toll-free motorway) - exit at junction 5, just south of Clermont-Ferrand. Cross back under the motorway on the D213 following signs to Orcet, then after about a mile cross straight over at a roundabout, joining the D52 to Orcet. Shortly after the roundabout turn left where Orcet and the site are signposted. The camp-site lies almost immediately on the right hand site, just outside the village. Orcet as well as the camp-site are clearly signposted so you won't get lost.Or adress for your TOM TOM is; BG 45°. 70019 end LG 3°.16956.
dimension
size: 3 ha brutto
Places: 85

Sanitary:
sink unit (hot)
Shower (warm)
wheelchair-accessible
Wash basin (warm&cold)
Toilet
French Toilet
Washing machine
Wastewater for camper
Shopping & Restaurants:
Pizzeria
Snack Bar
supermarket (small)
Sports, Gaming & Fitness:
Volleyball
childrens playground
Table tennis
Surrounding:
grass soil/floor
quietly situated
shadowy campsites
centrally located
General:
lighted lanes and streets
Campground guarded
permanent camping
Camping pass enough
Public phone
card phone
Siesta
disclosure with passport
dogs allowed (additional charge)
Internet access
Camping guides:
ACSI
ADAC-Campingguide
Campingcard ACSI