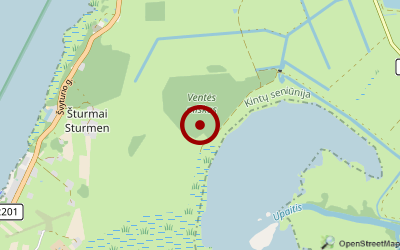 Open from-to: 01.Januar bis 31.Dezember
Comparison price: 21,00 Euro ( price per night with car, caravan und 2 adults and 1 child in the main season incl. all costs. )
Views (Last 30 days): 25
Description:
"Ventaine"camp site meets the European standards. It is located on a picturesque peninsula of the Horn of Vent?, in Nemunas Delta Regional Park, 45 km to South from Klaip?da. One of the biggest birds migration ways goes over the Horn of Vent?. Thousands of birds pass by "Ventain?" in autumn and spring
A 3-hectar camping site offers 40 places for caravans (water, electricity, canalization), 100 places for tents (showers, washrooms and WC).

Surrounding:
Near camping "Ventain?" is the Vent? cape, the most western Lithuanian part. From 1863 the lighthouse works here, it showed way to Klaip?da for navigators and rafters. Professor Tadas Ivanauskas in 1929 founded a station of birds ringing. The Ornithological Museum has been set up at the station. Festival of short films "Nets" was organized in Vent? in 1999. The famous films director Peter Greenaway took part in it. The past of Vent? Cape ist enmeshed of legends and real events. In 1360 Order of the Knights of the Cross built a castle, which protected water way in Nemunas. The castle often was devastated by storms. In 1703 storm devastated castle church and then inhabitants rebuilt it in Kintai.
Route:
When traveling from Vilnius or Kaunas, take Šilut? direction off the traffic circle near Klaipeda. Once you get to Priekul? (18 km), follow the direction sign "Vent? 28 km" by turning right. After you pass by villages of Saku?iai and Kintai you will see a village sign "Vent?". The gates of "Ventain?" will be on your right 300 meters down the road. When traveling from Šilut?, take a road to Klaip?da. Turn left after you see a direction sign "Vent? 25 km" about 8 kilometers down the road.
dimension
size: 3000 ha brutto
Places: 50

Sanitary:
Shower (warm)
Toilet
Washing machine
Wastewater for camper
sink unit (cold)
sink unit (hot)
Shower (cold)
Sports, Gaming & Fitness:
Billard
boat rental
childrens playground
Table tennis
Tennis
windsurfing & sailing
Bike rental
Surrounding:
directly on the beach/sea
sunny campsites
quietly situated
grass soil/floor
General:
Camping pass enough
Internet access
lighted lanes and streets
pay phone
WLAN-Internet
Campground guarded
Camping guides:
ADAC-Campingguide
ACSI
DCC e.V.
accommodation:
tents
rooms / apartments
mobil home
Caravan
bungalow

Download Information