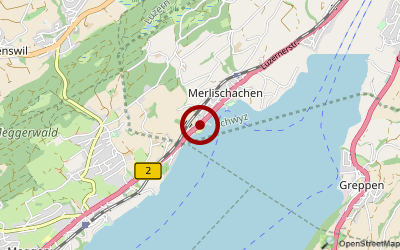 Open from-to: 25.Mai bis 15.September
Comparison price: 49,50 Euro ( price per night with car, caravan und 2 adults and 1 child in the main season incl. all costs. )
Views (Last 30 days): 25
Description:
Excellent situation on shore of Lake Luzern with wonderful mountain view.

Own little beach, free of charge.

Grass pitches next to the lake.

9km from Luzern, accessible by train, bus and boat.

Various excursions, boat cruises, biking, hiking and much more.

5km to Mt. Rigi, Queen of the Mountains (6000 ft).
Surrounding:
Situation: Our campground is located on the shore of Lake Lucerne, about 9km from the city centre of Lucerne, accessible by train, bus and boat. In walking distance from our campsite you will find a restaurant (500m), ATM (400m), boat station and bike rental (500m), free public beach with beach lounge (600m), hotel with tourist information (600m), food shop with postal services (600m), train station (950m) and bus terminus (1200m). Larger supermarkets you will find in Meggen (3km) and Kussnacht am Rigi (4km). *** Sightseeing: The distance to the border of Lucerne is 4km, to the Swiss Museum of Transport 6km, to the city centre, Lion Monument, Glacier Garden, wooden Chapel Bridge, historic Water Tower and City Towers and so on about 9km. On the way to Küssnacht am Rigi can be found the Astrid Memorial Chapel (3km), built to commemorate Queen Astrid of Belgium who died there tragically in a car accident. The Hohle Gasse (legend of William Tell) and the ruins of Gessler's Castle remind us to the past, when Kussnacht played an important part in Swiss history. *** Excursions: Step aboard an old-timer paddle steamer or a passenger boat and enjoy a cruise on Lake Lucerne or an excursion to Mt Rigi, Queen of the mountains (1800m / 6000ft). There are cable cars from Weggis (11km from here) to Rigi Kaltbad as well as from Kussnacht (5km) to Rigi Seebodenalp, a wonderful hiking area with good views. Moreover, there are two cogwheel railways (even steam trains on weekends from July until September) from Vitznau (16km) and Goldau (15km) to the peak Rigi Kulm. Further information about the area Lake Lucerne can be found at www.luzern.com, www.rigi.ch, www.lakelucerne.ch, www.pilatus.ch, www.titlis.ch, www.hohlgassland.ch, www.schwyz-tourismus.ch, www.swissknifevalley.ch and so on. *** Welcome to sunny Lake Lucerne, in the very heart of Switzerland!
Route:
Access to Merlischachen: Situated 9km East of Luzern city centre. Follow signs Küssnacht am Rigi, main road 2. Entering Merlischachen, right on Lake Lucerne. Motorway A2/E35 Basel - Luzern - Gotthard - Italy: Exit Luzern, 10km direction Küssnacht am Rigi. Motorway A4/E41 Zurich - Schwyz - Gotthard - Italy: Exit 36 Küssnacht am Rigi, 6km direction Meggen - Luzern. Train S3 Luzern - Küssnacht - Brunnen: Merlischachen (950m). Boat Luzern - Küssnacht: Merlischachen (500m). Bus 24 Luzern - Meggen: Meggen-Gottlieben (1200m).
dimension
size: 1 ha brutto
Places: 40

Sanitary:
Shower (warm)
Wash basin (warm&cold)
Toilet
sink unit (hot)
Surrounding:
directly on the beach/sea
grass soil/floor
shingle beach
sunny campsites
soft soil/floor
General:
disclosure with passport
Siesta
WLAN-Internet

Download Information