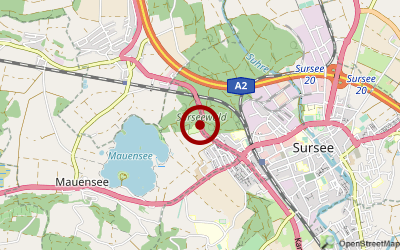 Open from-to: 28.März bis 25.Oktober
Comparison price: 36,50 Euro ( price per night with car, caravan und 2 adults and 1 child in the main season incl. all costs. )
Views (Last 30 days): 19
Description:
Welcome to Camping to relax and feel good

The Camping Sursee is located in the heart of Switzerland on the main axis Basel-Gotthard-Chiasso E35 / A2. We can offer you attractive (seasonal) courses for campers, caravans and tents. For simple and straightforward accommodations are available and dormitory rooms as well as two or caravans available.
Surrounding:
In the middle of nature surrounded with forest and green
Route:
Highway exit no. 20 Sursee, follow the blue signs to Basel, after 2.3 km you will have reached your destination or A2 / E35 motorway - exit no. 20 Sursee, 1st roundabout straight on, second roundabout, third Roundabout straight, 4th roundabout right direction Basel, after 600m to the left and you have arrived.
dimension
size: 1 ha brutto
Places: 105

Sanitary:
Wash basin (warm&cold)
Toilet
Washing machine
sink unit (cold)
sink unit (hot)
Shower (warm)
Shopping & Restaurants:
Restaurant / Bar
Snack Bar
supermarket (small)
Sports, Gaming & Fitness:
Surrounding:
grass soil/floor
quietly situated
shadowy campsites
sunny campsites
General:
Internet access
Siesta
WLAN-Internet
Camping pass enough
dogs allowed (additional charge)
Camping guides:
ADAC-Campingguide
DCC e.V.
ECC
ACSI
accommodation:
Caravan
rooms / apartments

Download Information