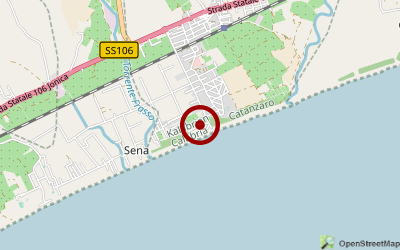 Open from-to: 31.März bis 04.November
Comparison price: 44,20 Euro ( price per night with car, caravan und 2 adults and 1 child in the main season incl. all costs. )
Views (Last 30 days): 21
Description:
The 3* Lungomare Holiday Homes & Campsite is immersed in a beautiful pine wood and balmy eucalypti with a hypnotic view of the Ionian Sea and its white sandy beach.

A modern complex, can offer a pleasant holiday with many options of stay: spacious holiday homes, comfortable mobile homes, well equipped caravans and shady pitches.

Located in a smart residential area, it is the ideal location for families or groups who appreciate the combination of pleasant sea days and relaxing moments.

This resort could not be better placed for those wishing to visit the ancient and magnificent Calabria. Enjoy the fragrance and colours of the nature of Southern Italy!
dimension
size: 25000 ha brutto
Places: 80

Sanitary:
sink unit (hot)
Shower (warm)
wheelchair-accessible
Wash basin (warm&cold)
Toilet
Washing machine
Wastewater for camper
sink unit (cold)
Shower (cold)
Shopping & Restaurants:
Pizzeria
Restaurant / Bar
Sports, Gaming & Fitness:
childrens playground
Football
Table tennis
Surrounding:
shadowy campsites
directly on the beach/sea
sandy beach
General:
dogs allowed (additional charge)
Internet access
Camping guides:
ECC
ACSI
ADAC-Campingguide
Campingcard ACSI
DCC e.V.
accommodation:
rooms / apartments
mobil home
Caravan

Download Information