Campgrounds in Italy

30013-Cavallino / Veneto / Italy
Camping Village MARINA DI VENEZIA is one of the largest and most prestigious campsites in Italy and Europe, dedicated to campers who want to experience their encounter with nature and represents a...
Places: 2749Open: 04/01 - 10/09/2023


04019-Terracina / Italy
Places: 16000Open: 04/01 - 09/30/2007


70011-Alberobello / Apulia / Italy
Camping Bosco Selva is a comfortable (3 star), 11.000 sqm campsite situated in a lush pine and oak forest which offers its guests a refreshing shady respite in the hot days of summer. It is located...
Places: 99Open: 01/01 - 12/31/2010


17046-Sassello / Italy
Naturist Camp Costalunga welcomes you in a beautiful campsite laid over a hill in a wooden area close to the town of Sassello (Savona) at 400 meters above the sea level and at 24 Km from the...
Places: 40Open: 04/15 - 09/30/2012

30013-Cavallino / Veneto / Italy
Places: 144Open: 05/10 - 09/22/2007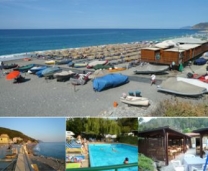 19013-Deiva Marina / Liguria / Italy
Situated at three Kilometres from the sea, surrounded by the typical Mediterranean vegetation, camping Valdeiva is the ideal starting point for a holiday in which the fascination of a sea holiday...
Places: 0Open: 02/10 - 11/04/2013


89868-Zambrone / Calabria / Italy
Places: 8Open: 06/01 - 08/31/2009


80061-Massa Lubrense / Campania / Italy
Places: 60Open: 03/03 - 11/05/2007


64026-Roseto Degli Abruzzi / Abruzzo / Italy
Eurcamping is located in the Abruzzo region , in a green area between the " GranSasso " mountain and the Adriatic Sea . A nice place for your summer holidays with your family. It is situated in a...
Places: 265Open: 06/11 - 11/01/2021


48023-Marina di Ravenna / Emilia-Romagna / Italy
For anyone looking for an active and dynamic holiday or for those who prefer taking it easy. All amenities, in close contact with nature ...... the ideal destination for your holidays!!...
Places: 400Open: 04/23 - 09/13/2010

Links
Surrounding
Popular searches