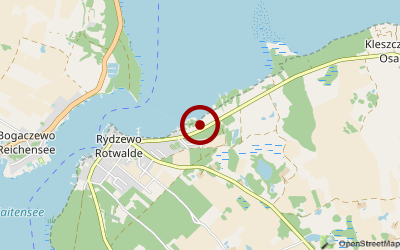 Open from-to: 01.Januar bis 31.Januar
Comparison price: 17,00 Euro ( price per night with car, caravan und 2 adults and 1 child in the main season incl. all costs. )
Views (Last 30 days): 29
Description:
Campsite Echo is situated in the most beautiful spot on the lake Niegocin, which makes it an ideal place from which you can make short trips to Gi?ycko, Miko?ajki, Ryn and perhaps go on a boat trip on the Great Masurian Lakes or go canoeing down the river Krutynia.
Surrounding:
Camping Echo is a recreational campsite located in a beautiful place by lake Niegocin with a panoramic view of Gi?ycko. Camping Echo has a clean, and above all safe beach. Our guest can hire water sports equipment. We do our best to make each day of your stay at our campsite unique.
Route:
Miko?ajki Center of sailing and water sports. Ryn Teutonic castle from the second half of the 14th century. Gi?ycko The Boyen Fortress, swing bridge on the ?ucza?ski Canal – monument of technology from the 19th century. Kadzid?owo Wild Animals Park. ?wi?ta Lipka Baroque church – basilica from 1687-1693, so-called "pearl of northern Poland".
dimension
size: ? ha brutto
Places: ?

Sanitary:
Shower (warm)
Shower (cold)
Wastewater for camper
Washing machine
Toilet
Shopping & Restaurants:
supermarket (small)
Restaurant / Bar
Sports, Gaming & Fitness:
Football
Fitness room
boat rental
windsurfing & sailing
Volleyball
Tennis
Golf
Surrounding:
directly on the beach/sea
sunny campsites
centrally located
soft soil/floor
shingle beach
shadowy campsites
quietly situated
hard,stony soil/floor
General:
Campground guarded
WLAN-Internet
winter camping
Internet access
Camping guides:
ECC
Campingcard ACSI
ADAC-Campingguide
ACSI
accommodation:
rooms / apartments
Caravan
bungalow
tents