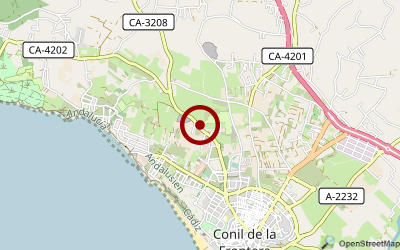 Open from-to: 01.Januar bis 31.Dezember
Comparison price: 50,50 Euro ( price per night with car, caravan und 2 adults and 1 child in the main season incl. all costs. )
Views (Last 30 days): 141
Description:
The campsite has a restaurant, supermarket, swimmingpool, kids waterpark, fitness-centre, sauna, paddle, 4 sanitary blocks with warm water free, and laundry service. Wifi is for free.
The bungalows are beautiful wooden houses. They have two bedrooms, bathroom, kitchen, dining-room, air condition/heating, TV, bed linen, kitchenware and garden.
Dogs are not allowed in the bungalow at any time.
Surrounding:
La rosaleda is situated 1,5km from Conil, a typical Andalusian town with wonderful beaches of white sand. Situated 40 km. from the oldest town in europe, Cádiz and 35 km from Xerez, the town of Horses, Sherry and Flamenco.
dimension
size: ? ha brutto
Places: 335

Sanitary:
Wastewater for camper
sink unit (cold)
sink unit (hot)
Shower (warm)
wheelchair-accessible
Wash basin (warm&cold)
Toilet
Washing machine
Shopping & Restaurants:
Restaurant / Bar
supermarket (small)
Sports, Gaming & Fitness:
Table tennis
Tennis
Bike rental
childrens playground
Fitness room
Surrounding:
sunny campsites
grass soil/floor
hard,stony soil/floor
quietly situated
sandy beach
shadowy campsites
subdivided campsites
centrally located
General:
Internet access
lighted lanes and streets
winter camping
Campground guarded
Camping guides:
ACSI
ADAC-Campingguide
Campingcard ACSI

Download Information