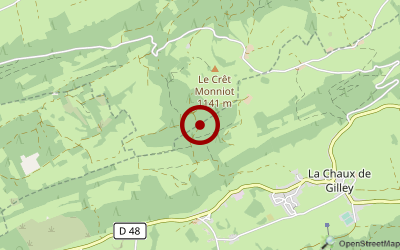 Open from-to: 01.Januar bis 31.Dezember
Comparison price: 34,13 Euro ( price per night with car, caravan und 2 adults and 1 child in the main season incl. all costs. )
Views (Last 30 days): 58
Description:
The nicely situated "Lac des Brenets" terraced campground awaits you in the most beautiful area of the Jura. Come join us for an active and relaxing vacation!

The campground is situated in a quiet, natural setting with a magnificent view of the lake and the sinuous course of the Doubs.

The "Lac des Brenets" terraced campground offers a total of 140 sites for short-term visitors (tents, caravans or motor homes), caravans, mobile homes and mobile chalets.

Our short-term sites are available from 1 April – 31 October. Our sites for caravans, mobile homes and mobile chalets are available throughout the entire year.
Surrounding:
Les Brenets is primarily a quiet and to some extent a wild nature and recreation area and an ideal starting point for a variety of interesting excursions. Whether by bike, on foot or by boat, you will enjoy exploring the beauty of nature, rich in fauna and uncommon flora.
Route:
via La Chaux-de-Fonds - Le Locle
dimension
size: 37000 ha brutto
Places: 149
-



Sanitary:
sink unit (cold)
Shower (warm)
sink unit (hot)
Wash basin (warm&cold)
wheelchair-accessible
Wash basin (cold)
Toilet
Washing machine
Wastewater for camper
Shower (cold)
Shopping & Restaurants:
Snack Bar
Restaurant / Bar
Sports, Gaming & Fitness:
Football
childrens playground
Tennis
Table tennis
Surrounding:
subdivided campsites
quietly situated
sunny campsites
grass soil/floor
shingle beach
General:
WLAN-Internet
disclosure with passport
lighted lanes and streets
Camping pass enough
permanent camping
dogs allowed (additional charge)
Siesta
Camping guides:
ECC
ACSI
ADAC-Campingguide
DCC e.V.