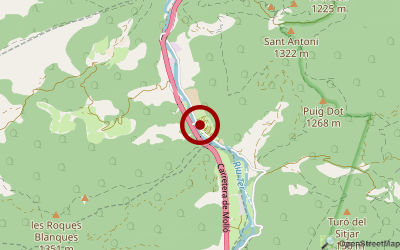 Open from-to: 01.Januar bis 31.Dezember
Comparison price: 50,00 Euro ( price per night with car, caravan und 2 adults and 1 child in the main season incl. all costs. )
Views (Last 30 days): 18
Description:
Camping Vall de Camprodon is located in the Ripollès, a privileged area of the Catalan Pyrenees. It is surrounded by magnificent scenery of mountains, where nature is shared with the tranquility and comfort of its facilities.
The nearest town is Camprodon, which is an amazing stone village with a wonderful Romanic bridge and a lot of history. It is a place to relax and enjoy activities in nature like hiking, horse riding, mountain biking, fishing and an extensive variety of tracks for 4X4 driving and motorbike cross-country.
The situation of the campsite is very convenient. It is 100 km from the Girona coast and 133 km from Barcelona and Andorra.
We have a wide range of accommodations including bungalows from 2 to 12 people, plots for caravans, campers and an area to camp. We also have bar and restaurant service, swimming pool, sport area (paddle, tennis, soccer, basketball), recreational room, play ground for kids, free Wi-Fi and car wash.
The campsite is opened all year long, during high season every day and just the weekends in low season. On 25th and 26th of December the campsite is closed.
Our campsite is a point to get information about routes, tracks, maps, etc.

Route:
Camping Camprodon Valley The Plains Xenturri, C-38 17867 Camprodon Phone: 972 740 507 FAX: 972 130 632 E-mail: info@valldecamprodon.net http://www.valldecamprodon.net/contact-us/?lang=en
dimension
size: ? ha brutto
Places: 144

Sanitary:
Toilet
Washing machine
Wastewater for camper
sink unit (hot)
wheelchair-accessible
Shower (warm)
Wash basin (warm&cold)
Shopping & Restaurants:
supermarket (small)
Pizzeria
Restaurant / Bar
Sports, Gaming & Fitness:
Football
Table tennis
Tennis
Volleyball
childrens playground
Surrounding:
quietly situated
shadowy campsites
sunny campsites
General:
Campground guarded
dogs allowed (additional charge)
Internet access
WLAN-Internet
accommodation:
tents
Caravan
mobil home
bungalow