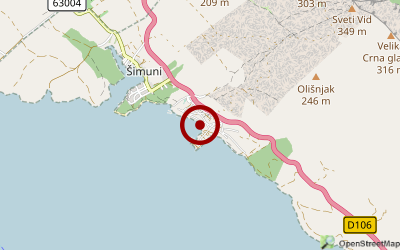 Open from-to: 01.Januar bis 31.Dezember
Comparison price: 36,60 Euro ( price per night with car, caravan und 2 adults and 1 child in the main season incl. all costs. )
Views (Last 30 days): 29
Description:
Camp Šimuni stretches along the very shore of the Island of Pag, not far from the fishermen's village of Šimuni. The Island of Pag is one of the largest Croatian islands having the longest coastline in the Adriatic, full of bays, coves, capes and sandy beaches. The pleasant Mediterranean climate and the fact that this is one of the sunniest Croatian islands put it among the most attractive summer holiday destinations. We take greatest pride in our 4 km (80,000 m2) sandy beach with a designated area for children and pets.

The camp stretches over 35 ha and the pleasant shade of evergreen oak and pine woods provide attractive locations for accommodation of campers, camping trailers or tents. The camp also contains 200 fully equipped mobile homes of different surface areas and equipment levels, providing a view of the Pag archipelago.

Professional chefs from across the world will delight even the most demanding gourmets with an extensive and affordable gastro offer. This is one of the reasons why our guests always return.
dimension
size: 35 ha brutto
Places: 1600

Sanitary:
Wash basin (cold)
Wash basin (warm&cold)
Shower (warm)
sink unit (hot)
Shower (cold)
Wastewater for camper
Washing machine
Toilet
Shopping & Restaurants:
Snack Bar
Restaurant / Bar
Pizzeria
supermarket (large)
Sports, Gaming & Fitness:
Billard
Tennis
Bike rental
Table tennis
pokies/slot machine
Discotheque
childrens playground
windsurfing & sailing
boat rental
Volleyball
Surrounding:
subdivided campsites
shadowy campsites
sandy beach
grass soil/floor
directly on the beach/sea
sunny campsites
General:
dogs allowed (additional charge)
Campground guarded
WLAN-Internet
winter camping
permanent camping
lighted lanes and streets
Internet access
Camping guides:
ECC
DCC e.V.
Campingcard ACSI
Camping Cheque
ADAC-Campingguide
ACSI