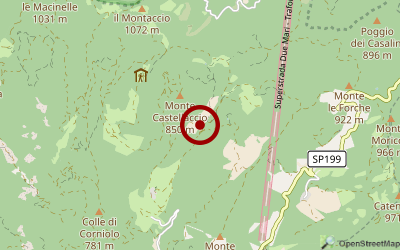 Open from-to: 01.Januar bis 31.Dezember
Comparison price: 45,00 Euro ( price per night with car, caravan und 2 adults and 1 child in the main season incl. all costs. )
Views (Last 30 days): 34
Description:
You are welcome in our Centro Vacanze as well in the oldest republic in the world. Our "Camping Village" of San Marino is recognized among the best in the Emilia Romagna, and consists of an camping area and hotel area. The village, nestled in a natural park, is located on a scenic hill, from which you can see a big part of the Adriatic coast of Rimini. That makes the environment, the ideal place to spend a relaxing holiday and at the same time active and exciting.
It is only 2 minutes drive from the sports hall "Multi Events", 5 minutes from the historical center of San Marino and 15 minutes from the beach of Rimini.
Type of pitches: situated on terraces, bounded by hedges or trees.
Surrounding:
Due to its location you can easily reach the nearby cities of art like San Leo, Gradara, Urbino and the major theme parks of the Riviera such as Italy in Miniature, Aquafan and Mirabilandia.
Route:
By aeroplane International Airport F. Fellini Rimini & San Marino (www.riminiairport.com) International Airport Ancona Falconara (www.ancona-airport.com) International Airport "L. Ridolfi" Forlì (www.forliairport.com) International Airport "G. Marconi" Bologna (www.bologna-airport.it) By train Rimini station State Railways - for information: 892021 - www.ferroviedellostato.it By car High way (autostrada) A14 Bologna - Taranto, exit Rimini Sud At the exit, follow signs to San Marino. After about 3 km from the border, you see the junction Electronics (A big glass building with flags on the roof), leave the motorway and follow signs for the hospital (ospedale). At the Passion Car dealership / BRICO IO turn to right.
dimension
size: ? ha brutto
Places: 200

Sanitary:
Toilet
Wash basin (warm&cold)
wheelchair-accessible
Shower (warm)
sink unit (cold)
Wastewater for camper
Washing machine
French Toilet
Shopping & Restaurants:
Restaurant / Bar
Pizzeria
supermarket (small)
Snack Bar
Sports, Gaming & Fitness:
Football
childrens playground
Bike rental
Volleyball
Tennis
Table tennis
Surrounding:
quietly situated
hard,stony soil/floor
grass soil/floor
centrally located
sunny campsites
subdivided campsites
shadowy campsites
General:
Internet access
dogs allowed (additional charge)
Camping pass enough
WLAN-Internet
winter camping
Public phone
lighted lanes and streets
Camping guides:
Camping Cheque
ADAC-Campingguide
ACSI
ECC
DCC e.V.
Campingcard ACSI
accommodation:
rooms / apartments
mobil home
Caravan
bungalow
tents