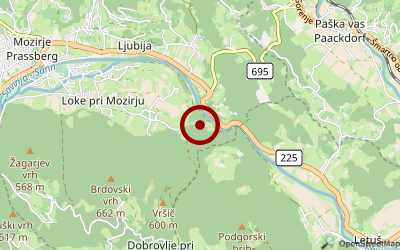 Open from-to: 27.April bis 01.Oktober
Comparison price: 40,00 Euro ( price per night with car, caravan und 2 adults and 1 child in the main season incl. all costs. )
Views (Last 30 days): 69
Environmental zone:
Description:
Forest Camping Mozirje in the village of Loke at town Mozirje is a charming campsite offering various accommodations, pitches for tents and creative experience of outdoor leisure activities amidst magnificent nature.
It features several nifty wooden huts paying homage to the rich heritage of timber rafting on the Savinja River. Guests may also pitch their own tents, trailer, campers, vans, they can rent a tent with all the bedding, or spend the night in a hammock out in the open. Bathing in the river that flows by the site is virtually impossible to resist, offering perfect refreshment. In addition to accommodation, we also offer a varied range of sports activities, while the easy going types may prefer to relax in the tree crowns, perhaps with a book from our unique library set up for the bookworms among our guests.

The guests can meet and mingle in different common areas. One is an open air fireplace for grilling or for evening socialising; the other is roofed and includes a fully equipped kitchen where you can get your first morning coffee or tea from our herb garden, as well as any other little thing you may have forgotten to take with you. Is there anything better than grilling a trout against the background music of guitar and rustling of the river?
Toilets are located near the accomodations area. The area of Forest camping has Wi-Fi internet access, a mobile stage for events and workshops, a mini library, and several sports facilities (backetball playground, small football playground)– all you need to get up close and personal with nature.
Our offer involves a range of sports activities suitable for guests of all ages. At the campsite, you can play volleyball or speed badminton (or speedminton), put your balance to test in slacklining or rent a bicycle to discover the surroundings.
Working with the local company, we also organize activities for the adrenaline persons: whitewater rafting, canyoning, kayaking, paragliding, and many others.
Our mission is rounded off with an adjusted offer and organization of a variety of theme-based, arts or popular workshops. There is also a children's playground with a sensory box and many games for our youngest guests.
Surrounding:
LOCATION - In the inviting Alpine village of Loke, perched on the Savinja river in the Upper Savinja Valley, logging and farming are still the predominant activities. Therefore, timber rafting tradition is still going strong. This is home to good and sometimes impish people who welcome anyone and invite them to try some traditional Upper Savinja Valley stomach, or do something goofy just for fun. Towering nearby is a 1500 metre mountain of Golte, the captivating flower garden Mozirski gaj and not so far away the glorious Logarska Valley.
Route:
The campsite is located 55 kilometres from the Ljubljana Airport and 30 km from the town of Celje. From the A1 motorway, take the Šentrupert exit and continue in the direction of Mozirje – Logarska dolina. When you reach town Mozirje, turn left on second roundabout and follow the camping signs. From there is only 3 km away. Alternatively, from Ljubljana, take the Ljubljana – Kamnik – Gornji Grad – Nazarje – Mozirje main road. Buses/coaches from Ljubljana's main bus station will take you to Gornji Grad from Monday to Friday (http://www.ap-ljubljana.si/); subject to previous arrangement, we will take care of your transportation from town Gornji Grad to our camping.
dimension
size: 4 ha brutto
Places: 85

Sanitary:
Shower (cold)
sink unit (cold)
Shower (warm)
sink unit (hot)
Wash basin (warm&cold)
Wash basin (cold)
Toilet
Washing machine
Wastewater for camper
Sports, Gaming & Fitness:
boat rental
childrens playground
Football
ski lift
Table tennis
Volleyball
Bike rental
Surrounding:
quietly situated
shadowy campsites
sunny campsites
directly on the beach/sea
grass soil/floor
hard,stony soil/floor
General:
Campground guarded
disclosure with passport
dogs allowed (additional charge)
Internet access
WLAN-Internet
Camping guides:
ACSI
ADAC-Campingguide
ECC
ECOCAMPING