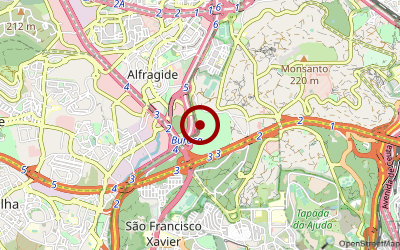 Open from-to: 01.Januar bis 31.Dezember
Comparison price: 46,10 Euro ( price per night with car, caravan und 2 adults and 1 child in the main season incl. all costs. )
Views (Last 30 days): 29
Description:
LISBOA CAMPING & BUNGALOWS is a 380.000m2 campsite, prepared to receive 1800 guests.
The Campsite has 70 bungalows, 171 shaded equipped bays and a very large area for tents and the reception is opened 24 hours all year long.
It's a peaceful, familiar campsite, situated in the middle of the nature, where you can have a squirrel for neighbor.

Surrounding:
Our campsite is located in a forest park in Lisboa, with easy access to the center by bus. Has the advantage of proximity of the "Costa Azul" beaches and Sintra which is a village considered World Heritage by UNESCO.
dimension
size: 38 ha brutto
Places: ?

Sanitary:
Wash basin (cold)
Wash basin (warm&cold)
Shower (warm)
Shower (cold)
Wastewater for camper
Washing machine
Toilet
Shopping & Restaurants:
supermarket (small)
Restaurant / Bar
Sports, Gaming & Fitness:
Minigolf
Football
childrens playground
Billard
Bike rental
Tennis
Table tennis
Surrounding:
centrally located
shadowy campsites
quietly situated
grass soil/floor
General:
lighted lanes and streets
Internet access
dogs allowed (additional charge)
Campground guarded
winter camping
permanent camping
Camping guides:
DCC e.V.
Camping Cheque
ADAC-Campingguide
ACSI
ECC