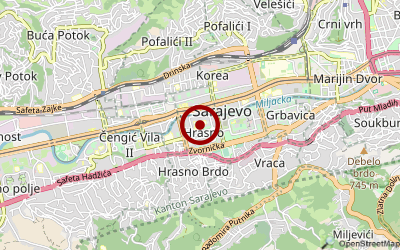 Open from-to: 01.April bis 01.Oktober
Comparison price: 6,00 Euro ( price per night with car, caravan und 2 adults and 1 child in the main season incl. all costs. )
Views (Last 30 days): 47
Description:
Our camp offers both places for small individual tents as well as extra big places for midsize tents, cars and midsize vans. Try camping in Sarajevo.

Our camp is close to the old city centre, and offers full shared toilets and shower, electricity for mobile phones and iPods, places to sit, relax and communicate.

You can come with your tent or we can give you one of ours. All you need is a sleeping bag.
Surrounding:
Old city with all important sightseeing points.
Route:
Street left from museum Alija Izetbegovic - Kovaci.
dimension
size: ? ha brutto
Places: ?

Sanitary:
Shower (warm)
Wash basin (cold)
Toilet
Surrounding:
grass soil/floor
centrally located
shadowy campsites
quietly situated
General:
naturist / nudist camping
Siesta
winter camping
Campground guarded
disclosure with passport
dogs allowed (additional charge)
lighted lanes and streets
accommodation:
tents
rooms / apartments
bungalow