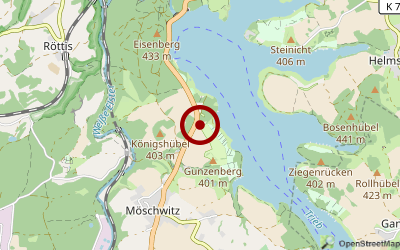 Open from-to: 27.März bis 01.November
Comparison price: 33,50 Euro ( price per night with car, caravan und 2 adults and 1 child in the main season incl. all costs. )
Views (Last 30 days): 16
Description:
The family-friendly 4-star camping site Gunzenberg is located directly at the Vogtland dam. The gently sloping meadowland is characterised by young trees and bushes and blends naturally into the surrounding area. A clear, target group-oriented division of the site for families and young people also makes a holiday at the campsite a relaxing experience for everyone.
As a comfortable alternative to conventional camping, modern rental accommodation, the so-called ECLUs, are available. The name of these camping huts is a neologism of the words "eco" and "luxury" and stands for the symbiosis of sustainable and nature-oriented, as well as comfortable accommodation. In addition, the igloo-like shape gives a hint of their cosy, romantic atmosphere.
We attach great importance to impeccable service, hospitality and above all cleanliness.

Our services for you:
free W-LAN on the entire course
Comfort pitches with water/waste water/electricity
Water hiking resting places to put down your own
Boats during your stay
Possibility for online booking

Off-season:
29.03 - 27.10.2019
02.09 - 27.10.2019

High season:
27.05 - 01.09.2019
Surrounding:
We attach great importance to impeccable service, hospitality and above all cleanliness. The surfing and sailing schools around the Pöhl reservoir, a climbing forest, many newly designed playgrounds, a newly built leisure and adventure area for young and old with an adventure mini-golf course, a water slush facility and much more, a golf course, the possibility of renting pedal boats and an adventure raft as well as the opportunity to explore the largest Vogtland reservoir during a one-hour boat tour!
dimension
size: 9 ha brutto
Places: 126

Sanitary:
wheelchair-accessible
Shower (warm)
Wash basin (warm&cold)
Toilet
Washing machine
Wastewater for camper
sink unit (hot)
Shopping & Restaurants:
supermarket (small)
Restaurant / Bar
Sports, Gaming & Fitness:
windsurfing & sailing
Football
Golf
childrens playground
Minigolf
Table tennis
boat rental
Volleyball
Bike rental
Surrounding:
sunny campsites
directly on the beach/sea
grass soil/floor
subdivided campsites
General:
lighted lanes and streets
permanent camping
dogs allowed (additional charge)
Siesta
WLAN-Internet
Camping guides:
ACSI
ADAC-Campingguide
Campingcard ACSI
DCC e.V.