Campgrounds in Canada
About 2000 campgrounds in canada are waiting for tourists. You'll find every camping category, wilderness campgrounds for under 10$ per night or more luxury campgrounds for more than 20$.

N0H 2R0-Tobermory / Canada
Located in the heart of the Bruce Peninsula Forest, surrounded by Fathom Five and Bruce Peninsula National Park, Harmony Acres is a small private campground. Having only 34 sites in total,...
Places: 0Open: 05/01 - 09/01/2010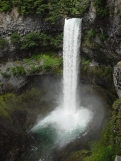 V0N 1B8-Whistler / Canada
Whistler RV Park is nestled in the alpine forests of the spectacular Coast Mountain range and is approximately 90 minutes drive from Vancouver, British Columbia. Wake up each morning to...
Places: 138Open: 02/01 - 06/30/2024


C0A 1N0-Cavendish / Canada
Cymbria Campground is a beautiful, clean, peaceful campground appealing to respectful campers wishing to leave a small footprint. The perfect home base for touring because of its central location,...
Places: 0Open: 06/04 - 09/07/2010


V1E 4M4-Salmon Arm / Canada
Places: 0

V1E 4M4-Salmon Arm / Canada
Places: 0
Links
Surrounding
Popular searches