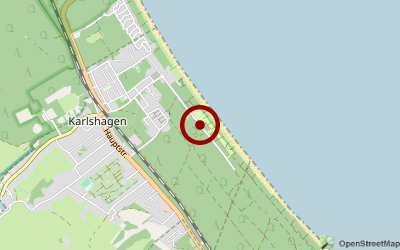 Open from-to: 01.Januar bis 31.Dezember
Comparison price: 52,50 Euro ( price per night with car, caravan und 2 adults and 1 child in the main season incl. all costs. )
Views (Last 30 days): 106
Description:
The loving care of the dune camp as well as a constant modernization of the camping facilities have paid off. The Dune Camp Karlshagen was awarded 5 stars by the German Tourism Association in 2005 - best quality class.

The dune camp is thus officially one of the most exclusive campsites in Germany. This means extensive service for the guests, an excellent infrastructure and first-class overall equipment with regard to the technical supply of the individual pitches as well as the sanitary facilities.


Surrounding:
The dune camp Karlshagen is located in the north of Usedom, the most untouched part of the holiday island. Camping here is very close to nature. As the name of our campsite suggests, the dune camp borders directly on the Karlshagen Baltic Sea beach and is situated in the middle of an idyllic pine forest. The kilometre-long and fantastically wide sandy beach is directly adjacent to the dune camp. A light sea breeze carries the sound of the waves and the pleasant sea air into the tents and caravans.
dimension
size: 5 ha brutto
Places: 340

Sanitary:
Shower (warm)
sink unit (hot)
Wash basin (warm&cold)
wheelchair-accessible
Wash basin (cold)
Toilet
Washing machine
Wastewater for camper
Shower (cold)
sink unit (cold)
Shopping & Restaurants:
Snack Bar
Restaurant / Bar
Sports, Gaming & Fitness:
childrens playground
Table tennis
windsurfing & sailing
Surrounding:
quietly situated
sandy beach
shadowy campsites
sunny campsites
soft soil/floor
directly on the beach/sea
centrally located
subdivided campsites
General:
winter camping
lighted lanes and streets
WLAN-Internet
Campground guarded
dogs allowed (additional charge)
Internet access
Siesta
Public phone
Camping guides:
ACSI
ADAC-Campingguide
Campingcard ACSI

Download Information