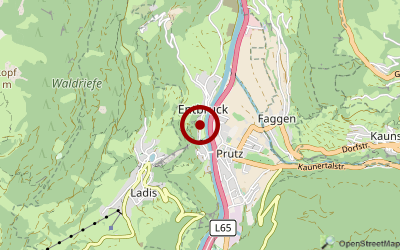 Open from-to: 01.Januar bis 31.Dezember
Comparison price: 40,00 Euro ( price per night with car, caravan und 2 adults and 1 child in the main season incl. all costs. )
Views (Last 30 days): 76
Description:
Camping Tyrol at Aktiv-Camping Prutz/Tyrol
In setting up our webpage, we not only tried to familiarize you with our campground, but also wanted to share the unlimited opportunities our area offers.

At the entryway to the Kaunertal Glacier, on the idyllic banks of the Inn River, surrounded by the Tyrolean Alps, you are offered a number of recreational activities for all ages.

For many of our permanent campers that have returned to the Aktiv-Camp for more than 20 years, our Campground have become like a second home.

So immerse yourself, and let yourself be enchanted.

Sincerely,
The Fedler Family
& the No.1 Camping team

Surrounding:
Camping Kids The holiday region of Upper Tyrol is a paradise for children and youth alike. The tourism department organizes from mid May to the end of October, a one of kind Animations program. A bonus about this is that for our guests it is complimentary! Playground There is nothing more pleasing to see, the glint in a childs eyes and to hear their joyful laughter. Our playground delivers this, a perfect meeting place for all the camp-kids, hiding climbing, or just chilling and hanging out. What awaits you… •Fun swing •Climbing tower •Table tennis •A small area for Soccer/Football Playroom and Baby Corner In case it rains, and its not so nice to be outside, our playroom is at your service! In here it's never boring! •Billiard •Fussball table •Pinball Machine For our little guests, we have designed the baby corner, here is a place your little one can let off some steam…artistically. We are waiting in anticipation to see who turns out to be the next little "Van Gogh". Let's go!! •Tshirt painting •Painting and crafts •Game evening •Mystery evening •Movie night •Pizza baking •Childrens Olympics
Route:
By car From Germany, the Benelux countries and Austria on the eastern Inn valley motorway, from western Austria and eastern Switzerland through the Arlberg Tunnel, from Italy via the Brenner Pass or Reschen. Nearest transport and rail junction is Landeck. From there to Prutz. Route planner By train Express trains to Landeck and from there to the postal scheduled buses or taxis to Prutz. Train information By Plane - Innsbruck (ca. 100 km) - Zürich (ca. 250 km) - München (ca. 250 km) By train / bus or taxi to Prutz.
dimension
size: 2 ha brutto
Places: 139
Places accomodation: -



Sanitary:
Wash basin (warm&cold)
Toilet
Washing machine
Wastewater for camper
sink unit (hot)
wheelchair-accessible
Shower (warm)
Shopping & Restaurants:
Snack Bar
supermarket (small)
Restaurant / Bar
Sports, Gaming & Fitness:
Minigolf
pokies/slot machine
Tennis
Table tennis
Billard
Volleyball
Football
childrens playground
Surrounding:
soft soil/floor
centrally located
grass soil/floor
subdivided campsites
shadowy campsites
sunny campsites
General:
Internet access
Siesta
disclosure with passport
winter camping
lighted lanes and streets
WLAN-Internet
Campground guarded
permanent camping
dogs allowed (additional charge)
Camping guides:
ACSI
ADAC-Campingguide
Campingcard ACSI
DCC e.V.