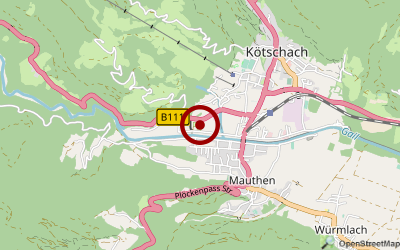 Open from-to: 15.Dezember bis 31.Oktober
Comparison price: 34,80 Euro ( price per night with car, caravan und 2 adults and 1 child in the main season incl. all costs. )
Views (Last 30 days): 16
Description:
The impressive mountain panorama of our climatic health resort, the cosy accommodation in our comfortable "holiday apartments", the "holiday bungalows", at the **** awarded "camping site" or the newly built "Hüttendörfl", combined with an extraordinary service, make your family, spa or adventure holiday in summer and winter a very special experience.

FREE OF CHARGE FOR OUR GUESTS: "AQUARENA, water and wellness oasis", adventure hall and outdoor pool centre with toddlers' area, as well as the Mauthen natural swimming pool.


WOHLFÜHLSTADL at the Alpine Camp. We can now offer you a wellness & sauna landscape on approx. 300m². There you will find an alpine larch sauna, Gailtaler Stubenbadl, crystal steam bath, Lesachtaler Schwitzkastl with colour light therapy, village fountain, rock experience grotto, massage room, solarium, fitness room and generous rest areas in the fire rest room or on the sun terrace. With the completion of the "Wohlfühlstadl", we also have spacious new drying rooms for your clothes and a modern shoe drying facility available for you.

We would be very pleased to welcome you as guests in our familiar atmosphere.

Surrounding:
"Excitingly untouched" is our slogan, because Kötschach-Mauthen is always a pleasure in winter as well as in summer. It is no coincidence that Kötschach-Mauthen is the most delicious corner of Carinthia. The basis for the culinary compositions lies in a scenic diversity, embedded between the Gailtal and Carnic Alps, refined with spicy air in a mild healing climate. "Exciting" is our offer for sportsmen and women who want to challenge the mountains and waters exciting also for children who expect a world of experience and adventure. "Untouched" and reborn, you will feel at home in the wellness oases of the Aquarena. As a quiet connoisseur of the countryside, you can walk for hours through untouched meadows, forests and alpine pastures and immerse yourself in the sea of flowers and plants of our fantastic mountain world. In winter our campsite is situated in an enviably beautiful and above all fog-free winter landscape. Kötschach-Mauthen offers ideal conditions for every winter holidaymaker to really relax. No matter whether you go on a cross-country skiing tour in the Angerbach valley, or on our valley track (300 m from the campsite) - or build a snow castle with the little ones after a day of skiing at the campsite. Afterwards you can warm up in the indoor swimming pool (free entrance), and afterwards you will be surprised with real culinary delights in one of our restaurants with local and international cuisine. It will be balm for your soul to be pampered in our family atmosphere. If you are one of the piste professionals, a small but nice family ski area with 2 ski lifts and a double chair lift awaits you just 500 m from the campsite. Of course, we must not forget that our campsite is located in the heart of Carinthia's natural arena and only a stone's throw away from the "Skiarena Nassfeld" with its 30 lifts and over 100 km of downhill slopes (the free ski bus takes you daily to the valley station of the New Millennium Express, in only 12 minutes you can go from 700m to 2000m).
dimension
size: 1 ha brutto
Places: 80

Sanitary:
Shower (warm)
Wash basin (warm&cold)
Toilet
Washing machine
Wastewater for camper
sink unit (hot)
Shopping & Restaurants:
supermarket (small)
Restaurant / Bar
Snack Bar
Sports, Gaming & Fitness:
Bike rental
Fitness room
childrens playground
ski lift
Table tennis
Surrounding:
sunny campsites
centrally located
grass soil/floor
subdivided campsites
quietly situated
shadowy campsites
General:
WLAN-Internet
Internet access
card phone
Siesta
lighted lanes and streets
pay phone
Camping pass enough
Public phone
Campground guarded
winter camping
dogs allowed (additional charge)
Camping guides:
ADAC-Campingguide
Camping Cheque
DCC e.V.
accommodation:
rooms / apartments
bungalow

Download Information