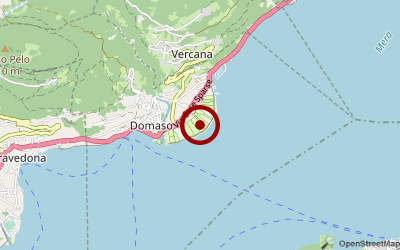 Open from-to: 04.Juli bis 01.November
Comparison price: 35,50 Euro ( price per night with car, caravan und 2 adults and 1 child in the main season incl. all costs. )
Views (Last 30 days): 30
Description:
Camping Gardenia is situated directly on the beach in the lovely village of Domaso and has a privileged location surrounded by the mountains and brushed by the "Breva", the wind that blows from the south. We are connected to Domaso by a pedestrian-cycling promenade and the centre of Domaso is only a short walk away. Walking in the other direction you will discover fantastic views, many tiny beaches and a pleasant walk along the lake.

The fusion between nature, sport, relaxation and local food makes Camping Gardenia the ideal place for your holidays at Lake Como.

There are 91 pitches, all about 60m2, within our 10,300m2 grounds. Each has the option of electrical hook up (4 or 6 Ampère).

The toilet and shower facilities are modern and clean being newly built. They've been designed with great attention to detail and are easy for all to access and are even child friendly.

Camping Gardenia has a bar with a beautiful terrace overlooking the lake. Many guests choose to start their day with breakfast on the terrace. In the afternoon drink an aperitif in the shade and socialise with others around the bar at night.

The main building also provides a small grocery shop, a TV room with satellite programs and an outside playground for children with climbing frame and slide. There is a laundry room with washing machines and a dryer, a bicycle storage room and a special storage shed for windsurf boards and sails so you wont have to de-rig your sails each day.

A Wifi hotspot offers internet access.

Dogs are welcome at the campsite but during the busy season in July and August, dogs are not permitted.

Surrounding:
Surrounded by picturesque mountains, the ancient fishing village of Domaso has changed over the years becoming one of the most popular tourist centers of Lake Como, which welcomes thousands of tourists every year. The charming steep cabbled streets and the houses along the arcades on the lake chatacterize the most ancient part of the village that still preserves XV century frescos on some facades of the houses.
Route:
-Gottardo tunnel or S.Bernardino pass Direction Lugano Direction Menaggio From Menaggio s.s.340 direction St.Moritz/Sondrio, 19km to Domaso. From the south -Milano ring road, exit Lecco s.s.36 From Lecco direction Sondrio Once at Colico (end of the ring road) direction Chiavenna 100m after river Adda bridge, turn left, direction Menaggio, 10km to Domaso -Highway Milano-Como, exit Como Direction Menaggio s.s.340 From Menaggio s.s.340 direction St.Moritz/Sondrio, 19km to Domaso.
dimension
size: 10000 ha brutto
Places: 90

Sanitary:
Wash basin (warm&cold)
wheelchair-accessible
Wash basin (cold)
Toilet
Washing machine
Wastewater for camper
Shower (cold)
sink unit (cold)
Shower (warm)
sink unit (hot)
Shopping & Restaurants:
Snack Bar
supermarket (small)
Sports, Gaming & Fitness:
Surrounding:
shadowy campsites
shingle beach
subdivided campsites
sunny campsites
directly on the beach/sea
grass soil/floor
quietly situated
General:
dogs allowed (additional charge)
lighted lanes and streets
WLAN-Internet
Camping guides:
DCC e.V.
ECC
ACSI
ADAC-Campingguide

Download Information