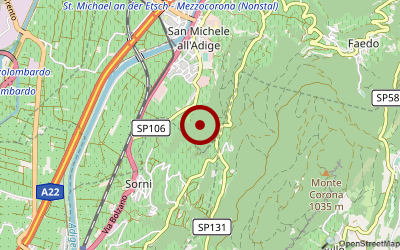 Open from-to: 09.April bis 06.November
Comparison price: 55,20 Euro ( price per night with car, caravan und 2 adults and 1 child in the main season incl. all costs. )
Views (Last 30 days): 96
Description:
Our family-run campsite lies in a peaceful sunny location in the midst of green fruit fields in southern South Tyrol - an ideal setting for feeling good and keeping acitve. We have modern sanitary facilities, a minimart, a children`s playround and a large natural bathing lake with a children`s pool. Perfect starting point for hikes, climbing tours, bike rides and day trips.

Surrounding:
The wine-producing villages of Cortaccia, Magré and Cortina nestle among the orchards and vineyards. Southern elegance pervades this winegrowing region, with its cypresses, oleander trees, fig and olive trees. Paths lead you gently up past individual farmhouses, vineyards and wood to the upland terrace of Penon and Corona and the Fennberg Lake. There you will find an ancient carved stone, mammoth trees, as well as Europe`s highest winery - Müller Thurgau. A vine planted in 1601 covers the whole front of a house in the village of Magré. Many architectual details bear witness to the merging of northern and southern cultures: sandstone framed door arches and doublearch windows, loggias and expertly forged window grills. The southerly location means hiking is possible all year round. In spring, a special experience is walking or cycling through a sea of apple blossoms.
Route:
Motorway Brennerautobahn A22, Exit Egna/Ora, Cortaccia 7 km
dimension
size: ? ha brutto
Places: 25

Sanitary:
Wastewater for camper
sink unit (hot)
wheelchair-accessible
Shower (warm)
Wash basin (warm&cold)
Toilet
Washing machine
Shopping & Restaurants:
Pizzeria
Restaurant / Bar
Sports, Gaming & Fitness:
Surrounding:
subdivided campsites
quietly situated
shadowy campsites
sunny campsites
grass soil/floor
General:
Siesta
WLAN-Internet
disclosure with passport
lighted lanes and streets
dogs allowed (additional charge)
Internet access
Camping guides:
ECC
ACSI
ADAC-Campingguide
DCC e.V.

Download Information