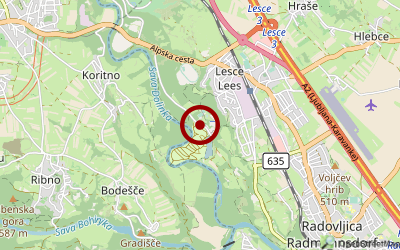 Open from-to: 17.April bis 30.September
Comparison price: 35,00 Euro ( price per night with car, caravan und 2 adults and 1 child in the main season incl. all costs. )
Views (Last 30 days): 32
Description:
It is a good place to stop on Your way towards the seaside as well as for longer stays as there are a lot of opportunities to spend your free time actively. The 15-hectare camp s like a pearl in the middle of the Julian Alps and the Karavanke, located between the Sava Dolinka and a small lake with an island. It is located in a pine forest, providing complete or partial shade. In addition to flat plots with all the facilities where You can pitch a tent, a camper or a caravan, You can also rent a bungalow.

The area of the plots is from 60 to 100m2. Power supply (16 A) is accessible from all of them. There are three toilette blocks in the camp, one of which is heated. There are also toilettes and showers for the disabled and a baby room. The following can be used against payment: washing machine, dryer and refrigerating drawer. There is a modern sanitary-cleaning facility in the camp where you can release fecal water and get drinking water. You can also wash and vacuum Your vehicle.

In the camp there is a restaurant and a cake shop, and near the entrance there is a well-stocked food shop.

The village of Lesce is 2 kilometres away, accessible by road or you can walk along the shorter path through the forest. In Lesce there is a bus stop and a railway station, bank, post office, garages, several shops, a church and a disco.

Sports areas and facilities in the camp provide ample opportunities for active holidays. You can play tennis on sand, grass or asphalt courts (on the latter you can also play roller blade hockey); You can play mini golf or table tennis, and in the shade of pine trees there is a beach volley court, basketball court and a badminton court. Special care is taken about children: they can swim in the enclosed part of the lake, where the water is not more than 50 cm deep, and in the surrounding of the lake there are a lot of facilities for playing.

In the morning child care is organised, and different events are organised in the evenings from Monday to Friday.

Surrounding:
And there are even more opportunities in the surrounding of Šobec. You can start your walks in the camp itself. We will suggest paths and trips, which last from two to twelve hours. Both rivers, the Sava Dolinka and the Sava Bohinjka are very suitable for kayaking, canoeing and rafting. A special kind of recreation is fishing: in the Sava and the Radovna and in the Lake of Bled and Lake of Bohinj. Very close to the camp there is a golf course, hippodrome, air-field, and the mountains are a challenge for mountaineers and paragliders. There is an internet corner at the reception, You can rent a bicycle, book rafting or buy a fishing permit. Mountain guides can be arranged upon request, or accommodation in one of the mountain huts can be booked. In Bled and in Radovljica there are several natural and cultural sights, as well as several events.
Route:
The Camp is located in the North-West of Slovenia. It is only 15 km from the Karavanke Tunnel and 2 km off the highway A 2 Villach – Ljubljana, exit Nr. 3 - Lesce
dimension
size: 15 ha brutto
Places: 500