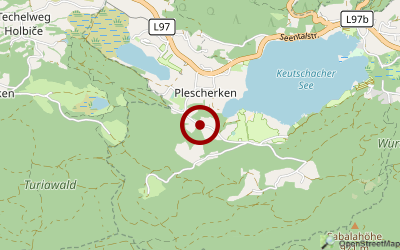 Open from-to: 01.Mai bis 30.September
Comparison price: 30,40 Euro ( price per night with car, caravan und 2 adults and 1 child in the main season incl. all costs. )
Views (Last 30 days): 22
Description:
idyllic location right on the lake
spacious campsites
beach and direct access to the lake
Seehotel restaurant and beach buffet
baker from 7 to 10 a.m.

Surrounding:
Our camping site is embedded in a 1000m² green landscape surrounded by lakes and forests. The Hafnersee with its beautiful, natural shore is at your feet. Modern conveniences for your camping holiday are available. Enjoy an uncomplicated holiday just the way you like it.
Route:
From Vienna and Eastern Europe: Take the A2 Autobahn Klagenfurt West exit, continue on A2 to the Klagenfurt-Wörthersee exit, at the traffic light continue straight on in the direction of Maria Wörth, Reifnitz (Wörthersee Süduferstraße). In Reifnitz turn left in the direction of Keutschach, Hafnersee. At the roundabout, proceed right in the direction of Hafnersee, at the 2nd roundabout go straight in the direction of Hafnersee. After going 3 km, you will see us on the left side of the road: Welcome to the Seehotel Hafnersee. From Salzburg and Germany: Take the A10 Tauern Autobahn to Villach, continue on the A2 in the direction of Klagenfurt, take the Velden-West exit, at the roundabout go right in the direction of Maria Wörth, Schiefling. After about 2 km, turn left in the direction of Maria Wörth, Wörthersee-Südufer. In Selpritsch turn right at the Shell service station and then continue through Augsdorf and Schiefling. You will find us 3 km after Schiefling on the right side of the road: Welcome to the Seehotel Hafnersee. From Italy and Southern Europe: Travelling in the direction of Austria - Tarvisio - take the junction at the A2 in the direction of Klagenfurt, Velden- West exit, at the roundabout go right in the direction of Maria Wörth, Schiefling. After about 2 km, turn left in the direction of Maria Wörth, Wörthersee-Südufer. In Selpritsch turn right at the Shell service station and then continue through Augsdorf and Schiefling. You will find us 3 km after Schiefling on the right side of the road: Welcome to the Seehotel Hafnersee. Distances: Velden 10 km Klagenfurt 15 km Salzburg 200 km Udine, Italy 150 km Ljubljana, Slovenia 90 km Next motorway exit: A2 Klagenfurt 20 km Next train station: Klagenfurt 15 km* Velden 8 km* Next airport: Klagenfurt 20 km* *Pick up with hotel bus on request. A 10 A 2
dimension
size: 43 ha brutto
Places: 90

Sanitary:
Shower (cold)
Shower (warm)
Wash basin (warm&cold)
Wash basin (cold)
Toilet
Washing machine
Sports, Gaming & Fitness:
Bike rental
Fitness room
childrens playground
Minigolf
Table tennis
Volleyball
Billard
Surrounding:
directly on the beach/sea
General:
permanent camping
dogs allowed (additional charge)
Siesta
Public phone