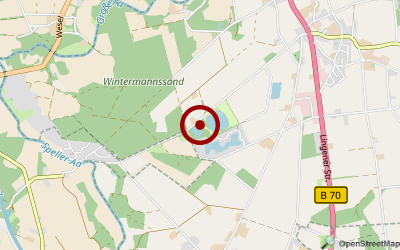 Open from-to: 01.Januar bis 31.Dezember
Comparison price: 24,50 Euro ( price per night with car, caravan und 2 adults and 1 child in the main season incl. all costs. )
Views (Last 30 days): 46
Description:
Located in Northern Germany in the southern Emsland region, western Lower Saxony, close to the Dutch border and close to the A30 and A31 motorways.
The state forests, cycle & hiking trails, lakes, canals and rivers shape the landscape. As well as many historical buildings, monasteries, castles, beautiful courtyards and churches, the flow of the great Aa and Ems.

The surrounding area with its signposted cycle and hiking paths, e.g. in the state forests, along the Ems and Aa rivers, or excursions on horseback or covered wagon or a round of football golf at the neighbours', will make your holiday a memorable experience. Here recreation is written in capital letters.

The campsite Blauer See has a 5ha large, very beautiful bathing lake with a sandy beach, well-kept sanitary buildings with solar heating and photovoltaic. Drinking water connections, electricity and waste water are available for all permanent pitches, also gas connections for a permanent pitch that can be inhabited all year round. Drinking water/seawater connections, electricity (Euro plug) & WLAN/WiFi Internet is available to all guests around the clock.

The Blauer See campsite, 28,000 square metres in size (plus 50,000 square metres of lake area), also offers everything else that the holidaymaker could wish for:


Renting of chalets, caravans/trekking cabins
Very quiet, very well maintained & manageable
Dogs are welcome/grilling is allowed
Group, child & family friendly
Trekking hut, chalets, rental caravans
Bathing sand beach & excellent water quality
Beekeeping & Honey sales Blue bee
Café-Restaurant with lake terrace & beer garden
Large fireplace with swivel grill and firewood
Children's playground with seasonal bouncy castle
Rental of caravans, trekking cabins and tents
Kidshut with seating for smaller groups, toys and satellite TV
Water sports on the lake and in the surrounding waters, canals and rivers
Bicycle rental, paddleboard rental, play & sports equipment rental, library
Outdoor table tennis, coin table/croketball, volleyball (seasonal)
Coin operated dishwasher, Cooker, Refrigerator, Coin operated dishwasher, Coin operated washing machines & dryers
Seasonal delivery service for fresh rolls

Should you decide to stay longer with us or even become a permanent guest on one of our leasehold properties, nothing stands in the way of this wish including all the necessary requirements. Just contact us directly.

Surrounding:
southern Emsland between A30 / A31 A lot of forest Flat Rural Quiet Hiking trails Cycle paths go mushrooming Mountain biking Swimming Paddling sandy beach
Route:
Route/Anfahrt/Streckenplanung: Dezimal: 52.4132181 7.4113512 oder G/M/S: 52° 24? 47.59? 7° 24? 40.86?
dimension
size: 50000 ha brutto
Places: 50

Sanitary:
sink unit (hot)
Wash basin (warm&cold)
Wash basin (cold)
Toilet
Washing machine
Wastewater for camper
Shower (cold)
sink unit (cold)
Shower (warm)
Shopping & Restaurants:
Snack Bar
Pizzeria
Restaurant / Bar
Sports, Gaming & Fitness:
Bike rental
childrens playground
pokies/slot machine
Table tennis
Volleyball
boat rental
Surrounding:
sandy beach
shadowy campsites
sunny campsites
centrally located
directly on the beach/sea
grass soil/floor
quietly situated
General:
permanent camping
dogs allowed (additional charge)
lighted lanes and streets
Siesta
Camping pass enough
winter camping
Campground guarded
WLAN-Internet
Camping guides:
Campingcard ACSI
DCC e.V.
ACSI
ECOCAMPING
ADAC-Campingguide

Download Information