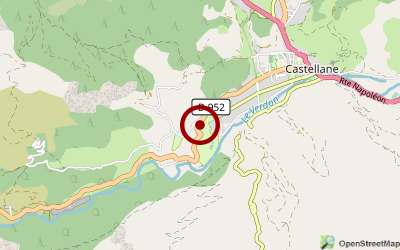 Open from-to: 13.Mai bis 17.September
Comparison price: 49,00 Euro ( price per night with car, caravan und 2 adults and 1 child in the main season incl. all costs. )
Views (Last 30 days): 40
Description:
A privileged environment:
In the heart of the Regional Parc of the Verdon, at the entrance to one of the largest canyons in the world, enjoy the magnificent natural surroundings.

Water is all around: the more play-orientated Lake of Castillon with its pedalos, the emerald waters of the Verdon river, the boating lake in the centre of the camping, the waterslides and the heated swimming pool to enjoy with friends, the paddling pool for smaller children and if you have decided to do nothing you can simply relax on the riverside or poolside and enjoy the fresh air.

Entertainment for adults and children:
Our motivated entertainment team offers you a full activity programme adapted for all ages and for all of the family.
Make the most of your holidays by trying a new sport and discovering a new lease of life.
Children's club, teenagers club, archery, games and competitions give you everything you need to enjoy fun times and to share with friends some unforgettable moments and experiences.

Our accommodations:
We offer you the choice of different types of accommodation for your holiday, wooden chalets and mobile homes integrated into the natural surroundings which offer you both outstanding comfort and a high level of quality to give you the freedom and wellbeing you are looking for as you get closer to nature and enjoy all the benefits of life in the great outdoors.

For camping enthusiasts equipped with a tent, caravan or motorhome, Domaine du Verdon offers spacious camping places which offer shade or sun and a motorhome service point.

Everything you need on site:
Restaurant, bar, crêperie, pizzeria, ice-creams, snack bar, pub, games room, supermarket, laundry room, rental of refrigerated compartments, safety deposit boxes and bicycles, the site is a village in its own right with its shops and a community ready to welcome you beneath the sunshine of the Provence.

The equipped spaces for the comfort:
Heated swimming pool, volleyball, basketball, mini golf, table tennis, boulodrome, archery, games room and a library which is located at the reception.
Small lake reserved for boating
Fishing lake reserved for children (less than 14 years of age)
Camp fire for the teenagers every evening in July and August from 23h.

Disabled access

Activities supervised by qualified professionals
Walks in the Gorges du Verdon
Hiking, rafting, canyoning and kayak.
dimension
size: 14 ha brutto
Places: 340

Sanitary:
Wastewater for camper
Washing machine
French Toilet
Toilet
Wash basin (warm&cold)
wheelchair-accessible
Shower (warm)
sink unit (hot)
Shopping & Restaurants:
supermarket (small)
Snack Bar
Restaurant / Bar
Pizzeria
Sports, Gaming & Fitness:
Table tennis
Minigolf
childrens playground
Billard
Bike rental
Volleyball
General:
dogs allowed (additional charge)
WLAN-Internet

Download Information