Campgrounds in France

03230-Gannay-sur-Loire / Auvergne-Rhône-Alpes / France
On our estate there is a flat grass-field, approximately one hectare in size that has 25 car-free pitches available for camping, under the trees or in the open field it's you who decides where to...
Places: 25Open: 11/30 - 11/30/-1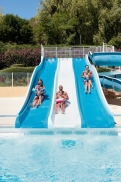 04120-Castellane / Provence-Alpes-Côte d'Azur / France
A privileged environment: In the heart of the Regional Parc of the Verdon, at the entrance to one of the largest canyons in the world, enjoy the magnificent natural surroundings. Water is all...
Places: 340Open: 05/13 - 09/17/2017


22380-Saint-Cast-le-Guildo / Brittany / France
Places: 0Open: 05/17 - 09/14/2010


30240-Le Grau Du Roi / Languedoc-Roussillon / France
Places: 0Open: 04/02 - 10/03/2010


85540-Saint-Cyr-en-Talmondais / Pays de la Loire / France
Places: 0Open: 04/02 - 09/12/2010


31220-Martres-Tolosane / Occitania / France
Places: 74Open: 04/01 - 09/30/2009


22130-Bourseul / Brittany / France
At Pallieter, we would like to welcome you to our site in a peaceful and quiet ambience. Besides the campsite, which is easily accessible, there is a valley with a fresh water stream and...
Places: 84Open: 04/30 - 09/25/2011


40560-Vielle-Saint-Girons / New-Aquitaine / France
Deep in the heart of the Landes forest and on the shores of the beach that seems to go on and on… For a complete change od scenery but with all the comfort you need, Campéole Les...
Places: 495Open: 04/01 - 09/30/2016


40180-Narrosse / New-Aquitaine / France
Places: 65Open: 04/01 - 10/31/2009


38680-Choranche / Auvergne-Rhône-Alpes / France
The Campsite is situated on the banks of the river Bourne, in a marvellous natural landscape near the village of Choranche, at the foot of the Presles Mountains. It is an ideal location for active...
Places: 52Open: 05/07 - 09/12/2010

Links
Surrounding
Popular searches