Camping in Brittany
Camping guide with lots of information about camping in Brittany (France)

22380-Saint-Cast-le-Guildo / Brittany / France
Places: 0Open: 05/17 - 09/14/2010


22130-Bourseul / Brittany / France
At Pallieter, we would like to welcome you to our site in a peaceful and quiet ambience. Besides the campsite, which is easily accessible, there is a valley with a fresh water stream and...
Places: 84Open: 04/30 - 09/25/2011


29120-Plomeur / Brittany / France
Keraluic is a beautiful Aire Naturelle du camping, on an idyllic site in Brittany. The small, flat grass area belongs to two nicely restored farm houses. One of the houses is the famous Chaumière...
Places: 25Open: 05/01 - 10/31/2010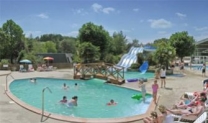 29310-Locunolé / Brittany / France
Places: 0Open: 03/28 - 09/04/2007


29252-Plouezoch / Brittany / France
Your 3 star campsite in Brittany with pool in the bay of Morlaix. Enjoy camping by the sea on the pink granite coast with beautiful pitches by flowering hedges. Camping by the sea is at the heart...
Places: 92Open: 04/01 - 10/31/2015


29880-Plouguerneau / Brittany / France
Places: 100Open: 04/30 - 10/11/2009


56460-Sérent / Brittany / France
Places: 45Open: 06/01 - 09/15/2008


56470-La Trinite Sur Mer / Brittany / France
Camping de la Plage, a 4-star campsite in La Trinité sur Mer near Carnac in South-Brittany What adds to the charm of our campsite ? Direct access to the beach The care we take in...
Places: 131Open: 05/07 - 09/20/2020


29150-Dinéault / Brittany / France
Located within the Armorique Regional Naturepark, Ty Provost is only 14 km from the beachs and 3 km from the local shop. The campsite is situated on land which was formerly part of an old farm....
Places: 44Open: 01/01 - 12/31/2014


56140-Malestroit / Brittany / France
Places: 75Open: 04/01 - 09/15/2008

Links
Surrounding Brittany
Popular searches