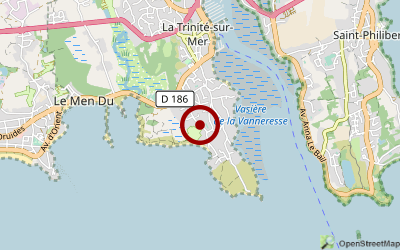 Open from-to: 30.April bis 19.September
Views (Last 30 days): 29
Description:
Camping de la Plage, a 4-star campsite in La Trinité sur Mer near Carnac in South-Brittany

What adds to the charm of our campsite ?

Direct access to the beach
The care we take in ensuring the quality of our accommodation, our facilities and the grounds of the site.
The healthy environment of what is a beautiful region, Quiberon Bay.

You will understand why so many clients come back from one year to the next.

An ocean backdrop…

It's a real luxury to be able to walk off the campsite onto the beach. Sea, sand and siesta… The children love it, and so do their parents.
Surrounding:
Camping de la Plage is situated in an exceptional location with direct access to a south-facing sandy beach on Quiberon Bay. It is bordered by a nature reserve of dunes and woodland, The harbour in La Trinite sur mer, a sailing paradise is only 1.5 km away and Carnac is 4 km away.
Route:
By road : Nantes and Rennes are 1 1/2 hours away , from Caen 3 ½ hour, from Saint Malo and roscoff (2 ½ hour), Find best itinerary with Mappy. By Train : Paris to Auray (TGV railway station) takes 3 1/2 hours. By plane: flight from Paris, London, Cardiff and Ireland. The airports at Lorient and Nantes are respectively 40 and 90 minutes drive away. By bus :from Auray to La Trinité sur mer (13km) and on-site the Trinibus (from mid July to the end of August) Camping de la Plage 4 stars Plage de Kervilen 40 bis rue de Kervourden 56470 La Trinité sur Mer GPS : N.047.57566 W.003.02900 Morbihan – South Brittany- Atlantic coast
dimension
size: 3 ha brutto
Places: 131

Sanitary:
wheelchair-accessible
Shower (warm)
Wash basin (warm&cold)
Toilet
Washing machine
Wastewater for camper
sink unit (hot)
Shopping & Restaurants:
Pizzeria
Restaurant / Bar
Snack Bar
supermarket (small)
Sports, Gaming & Fitness:
Bike rental
Billard
childrens playground
Minigolf
Table tennis
Tennis
Surrounding:
grass soil/floor
quietly situated
sandy beach
sunny campsites
directly on the beach/sea
General:
WLAN-Internet
Campground guarded
dogs allowed (additional charge)
Internet access

Download Information