Camping Beach
Beach campgrounds worldwide

30013-Cavallino / Veneto / Italy
Camping Village MARINA DI VENEZIA is one of the largest and most prestigious campsites in Italy and Europe, dedicated to campers who want to experience their encounter with nature and represents a...
Places: 2818Open: 05/16 - 10/12/2020


04019-Terracina / Italy
Places: 16000Open: 04/01 - 09/30/2007


9873-Döbriach / Carinthia / Austria
Sanitary: modernly equipped and heated laundry and toilet rooms + hot water everywhere + individual washing and shower cubicles + children's washbasins + toddler showers + children's toilet + baby...
Places: 600Open: 01/01 - 11/03/2008


3333-Ljubno ob Savinji / Slovenia
Camp NaturPlac ''Na Škali'' is one of those special places where you will end your activity-packed day by gathering with your family or friends around a fire and build new bonds with other nature...
Places: 20Open: 04/30 - 10/01/2020


6522-Prutz / Tirol / Austria
Camping Tyrol at Aktiv-Camping Prutz/Tyrol In setting up our webpage, we not only tried to familiarize you with our campground, but also wanted to share the unlimited opportunities our area...
Places: 120Open: 01/01 - 12/31/2015


4248-Lesce / Slovenia
It is a good place to stop on Your way towards the seaside as well as for longer stays as there are a lot of opportunities to spend your free time actively. The 15-hectare camp s like a pearl in...
Places: 500Open: 04/17 - 09/30/2010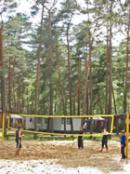 39619-Arendsee / Saxony-Anhalt / Germany
In the midst of a pine and birch forest in the immediate vicinity of the Arendsee, our campsite invites you to spend a relaxing holiday. Our campsite has a total of about 320 permanent campsites...
Places: 150Open: 04/15 - 10/04/2006


80061-Massa Lubrense / Campania / Italy
Places: 60Open: 03/03 - 11/05/2007


40560-Vielle-Saint-Girons / Aquitaine / France
Deep in the heart of the Landes forest and on the shores of the beach that seems to go on and on… For a complete change od scenery but with all the comfort you need, Campéole Les...
Places: 495Open: 04/01 - 09/30/2016


40180-Narrosse / Aquitaine / France
Places: 65Open: 04/01 - 10/31/2009