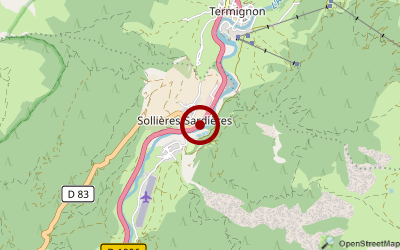 Open from-to: 24.April bis 30.September
Views (Last 30 days): 29
Description:
No one spot can really be said to 'have it all' (hence the joy of travel…), but Camping Le Chenantier certainly comes close. This family-friendly park is in one of France's finest national parks and is next to a river, a pine forest and a lake where you're free to fish. There are mountain views to appreciate here from practically every angle (including vistas over the jagged Dent Parrachée), and it's an easy stroll down to the bars and restaurants of Sollières-Sardières.

There's also a whole lot going on for sporty folk at Camping Le Chenantier – on-site activities include pétanque, table tennis, trampolining and a playground for the tiddlers. Further afield, there are over 600 kilometres of car-free trails for hiking and cycling across the national park.

The toilets and showers at Camping Le Chenantier are well-kept and clean; there are some handy washing machines and washing-up facilities as well, and wifi is accessible free of charge.

Barbecues can be set up here, and there are plenty of picnic tables dotted around the greenest spots. Fresh bread is delivered to the site in the morning. Still hungry? Sollières-Sardières has a pizzeria, bakery, traditional Alpine restaurant and supermarket (five to 10 minutes' walk).
Surrounding:
After travelling through mountain passes and thick forests to get here, you may well want to linger in the local area and let yourselves acclimatise to your Alpine surrounds. Camping Le Chenantier is a couple of minutes' walk from a fishing lake where you can cast your line or go for peaceful waterside strolls – on the far side there's also a spa garden where you can take the relaxation up an extra gear. There's also an indoor soft play centre and municipal archaeological museum a few minutes' walk from base. Modane (15 minutes' drive) is a short drive west along the D1006. You'll encounter a fair bit of historic architecture while wandering its streets – the 15th-century Notre-Dame du Charmaix Sanctuary is a gorgeous mountain pilgrimage site, while Saint-Gobain Fort, a well-preserved Maginot Line stronghold, is a 15-minute walk away on the other side of town. Driving deeper into the mountains is a sure-fire way to have a high old time. Check out Lac du Mont-Cenis (30 minutes) for lakeside treks with views over turquoise waters, or head into Termignon (15 minutes) to book in with an expert mountain guide who'll take you all 3,442 metres up to the summit of the Pointe de l'Échelle (35 minutes from site).
dimension
size: 1 ha brutto
Places: ?

Sanitary:
French Toilet
Toilet
wheelchair-accessible
Wash basin (warm&cold)
sink unit (hot)
Shower (warm)
sink unit (cold)
Wastewater for camper
Washing machine
Shopping & Restaurants:
supermarket (large)
Restaurant / Bar
Pizzeria
Sports, Gaming & Fitness:
childrens playground
Bike rental
Table tennis
Tennis
Surrounding:
sunny campsites
shadowy campsites
quietly situated
grass soil/floor
directly on the beach/sea
General:
WLAN-Internet
Internet access
dogs allowed (additional charge)
Camping guides:
Campingcard ACSI
Camping Cheque
ADAC-Campingguide
ACSI
accommodation:
rooms / apartments
Caravan

Download Information