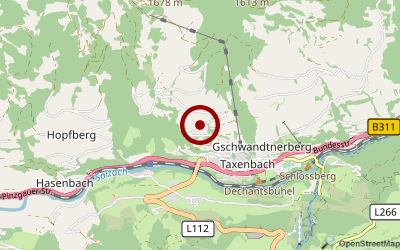 Open from-to: 01.Mai bis 21.Oktober
Comparison price: 32,00 Euro ( price per night with car, caravan und 2 adults and 1 child in the main season incl. all costs. )
Views (Last 30 days): 22
Description:
Our Oberhasenberghof is a typical mountain farm and children's farm at 1150 m above sea level in Taxenbach, at the entrance to the Raurisertal, in the Alps in Austria. We are near the Großglockner in the Hohe Tauern National Park.
In former times this farm was managed as an alpine pasture.
The farming is purely organic with suckler cows and various small animals to pet.
We offer holiday apartments, a small heidi hut and our CAMPING near the Großglockner in the Hohe Tauern National Park.

As a children's farm, we have a lot on the farm, from equipment for small children to go-karts for children and young people. Boredom is therefore not present with children.
Parents enjoy watching their children play on the large outdoor area and around the farm or relaxing in peace on the balcony or on the sunbathing lawn with a view of the magnificent mountain world.

In good weather the swimming pool, the two trampolines and the many go-karts are in demand. When it rains, the hayloft is the popular change.

The holiday apartments are in the two houses.

The sanitary area for the camping guests is built with lots of wood in the barn area 30 meters next to the campsite, and another 2 showers and WC in the new building.

The bio-house, the Heidihütte, is comparable to a mobile home. Small, but warm and dry.

In winter our camping is closed.

Surrounding:
Some hikes lead already from our farm into the mountain world, e.g. to the Rieser branches, Großglocknerblick, Hochkönigblick, Hundstein or into the rushing Kitzlochklamm. Many other hikes and destinations such as gorges, caves, adventure rafting, gold panning, ... are sufficiently available around Taxenbach.
dimension
size: 1 ha brutto
Places: 15

Sanitary:
Wash basin (warm&cold)
Shower (warm)
sink unit (hot)
Washing machine
Toilet
Sports, Gaming & Fitness:
Table tennis
childrens playground
Surrounding:
sunny campsites
quietly situated
grass soil/floor
General:
WLAN-Internet
dogs allowed (additional charge)