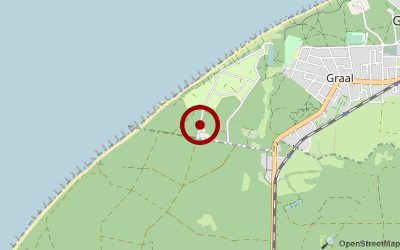 Open from-to: 24.März bis 05.November
Comparison price: 37,70 Euro ( price per night with car, caravan und 2 adults and 1 child in the main season incl. all costs. )
Views (Last 30 days): 130
Description:
Baltic Sea vacation pure... Whether in a tent or in a caravan, with us you camp in the light beech forest directly on the fine sandy and 30m wide beach. We offer you comfortable sanitary facilities, bakery, self-service market, gastronomy and a large playground.

Whether with the whole family, friends, as a couple or alone, our campsite situated in the nature combines one of the most attractive locations directly at the Baltic Sea with a modern campsite standard.

Our campsite is situated on an area of 24 ha over a length of 800m directly on the wide, fine Baltic Sea beach - only separated by the dune. The pitches are usually located in a light beech forest, which determines the special - for most - unique character of this site.

We offer you 5 new and comfortable sanitary facilities, partly equipped with individual washing cabins, hair dryer, separate baby changing rooms and facilities for the disabled.
Our "bath house" offers you single shower and tub baths, sauna and solarium.

The offer is rounded off by our restaurant "Nordlicht", ice cream parlour, fish smokehouse and snack bar, self-service market, bakery, beach shop and hairdresser.

Our little guests are the center of attention. We offer them a large playground with table tennis tables, volleyball field and basketball basket as well as children's entertainment during the summer holidays.

Surrounding:
Graal-Müritz... ... is one of the most beautiful seaside spas in Mecklenburg-Vorpommern and extends 5 km along the Baltic Sea beach. The idyllic location as the gateway to the Fischland/Darß/Zingst peninsula, surrounded by the Rostock Heath and the proximity to the Hanseatic city of Rostock make the 4,000 inhabitants of this municipality particularly attractive.
dimension
size: 24 ha brutto
Places: 500

Sanitary:
Washing machine
Wastewater for camper
sink unit (cold)
sink unit (hot)
Shower (warm)
wheelchair-accessible
Wash basin (warm&cold)
Toilet
Shopping & Restaurants:
supermarket (small)
Restaurant / Bar
Snack Bar
Sports, Gaming & Fitness:
Table tennis
Volleyball
windsurfing & sailing
Football
childrens playground
Minigolf
Surrounding:
directly on the beach/sea
sandy beach
shadowy campsites
soft soil/floor
centrally located
General:
Internet access
disclosure with passport
card phone
lighted lanes and streets
pay phone
Camping pass enough
WLAN-Internet
Campground guarded
permanent camping
dogs allowed (additional charge)
Camping guides:
ACSI
ADAC-Campingguide
Campingcard ACSI
DCC e.V.

Download Information