Campgrounds in Denmark

6720-Fanø / Denmark
Places: 350Open: 04/12 - 10/20/2019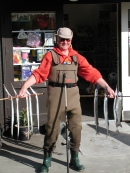 3700-Rønne / Capital Region / Denmark
Places: 190Open: 05/01 - 09/16/2007


6760-Ribe / Denmark
Places: 58Open: 03/26 - 10/31/2010


7800-Skive / Central Jutland / Denmark
Places: 30Open: 03/01 - 10/31/2007


9870-Sindal / North Jutland / Denmark
Here, in the heart of Vendsyssel, with neighboring forest, 150 km of Europe's best beaches, the accent is on the family. Ideal as a base for going out and above at the very top of Denmark. The...
Places: 175Open: 01/01 - 12/31/2010


8752-Østbirk / South Denmark / Denmark
Places: 260Open: 04/12 - 09/28/2014


6960-Hvide Sande / Central Jutland / Denmark
The campsite lies adjacent to the Ringkøbing Fjord with its own small beach. It's only a 10 minutes walk to the North Sea. Our sandbeach offers optimal conditions for all kinds of water sports...
Places: 220Open: 03/26 - 09/30/2010


7700-Thisted / North Jutland / Denmark
Places: 163Open: 01/01 - 12/31/2013


6760-Ribe / Denmark
Welcome to Ribe Camping Ribe Camping is famous for its calm and relaxed atmosphere, personal service, top modern kitchen- and bathing facilities, the large playing area for children and a very...
Places: 0Open: 01/01 - 12/31/2015


8654-Bryrup / Central Jutland / Denmark
Places: 250Open: 03/03 - 09/30/2008

Links
Surrounding
Popular searches