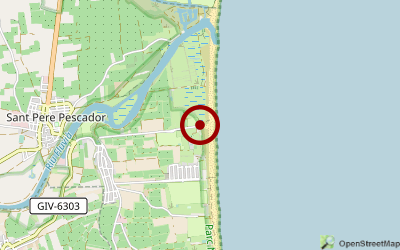 Open from-to: 19.März bis 23.Oktober
Comparison price: 60,00 Euro ( price per night with car, caravan und 2 adults and 1 child in the main season incl. all costs. )
Views (Last 30 days): 69
Description:
Camping La Gaviota in Sant Pere Pescador is exceptionally well situated on the first line of the most spectacular beach of Roses bay, 10 miles of golden sands and warm transparent water, which is a surfers paradise.

With direct access to the beach (50 mts.) and overlooking Roses Bay, La Gaviota offers you and your family a good standard of facilities so that you can enjoy the advantages that an open air life brings in a friendly atmosphere, and also the possibility to practise your favourite hobbies and sports in healthy natural surroundings.

// For OFFERS you can have a look on our homepage www.lagaviota.com //

Open until 25/10/2015 !!!
Surrounding:
Sant Pere Pescador is a little village on the Costa Brava, in the middle of Roses bay. The river Fluvià, crosses the village before flowing into the Mediterranean sea, creating the Natural Park of Aiguamolls (marshlands). This is one of the most important protected natural areas of Catalonia, because it brings together rare specimen of flora and fauna, and also is a stepping stone and a refuge for thousands of migratory birds. Sant Pere Pescador, is one of the world centres of watersports. In the last few years it has also become one of the best places for windsurfing and kitesurfing as a result of the local winds Tramuntana (north) and Garbí (south-west).
Route:
How to arrive by road from France: Border crossing La Jonquera motorway A-7 (exit 3) or main road N-II. Take the Figueres-Roses road until the turning directly to Sant Pere Pescador, and from there towards beaches. GPS Coordenates: 42º 11' 20'' N 3º 6' 31'' E www.viamichelin.com How to arrive by road from Barcelona: Motorway A-7 (exit 5) take the road to L'Escala or by main road N-II (Km. 185) take the turning to Sant Martí d'Empúries and from there towards Sant Pere Pescador to beaches.
dimension
size: 2 ha brutto
Places: 157

Sanitary:
wheelchair-accessible
Shower (warm)
Wash basin (warm&cold)
Toilet
Washing machine
Wastewater for camper
Shopping & Restaurants:
supermarket (small)
Pizzeria
Restaurant / Bar
Sports, Gaming & Fitness:
windsurfing & sailing
Billard
Bike rental
Football
childrens playground
Table tennis
Surrounding:
quietly situated
sandy beach
shadowy campsites
directly on the beach/sea
grass soil/floor
General:
Public phone
WLAN-Internet
lighted lanes and streets
Campground guarded
dogs allowed (additional charge)
Internet access
Camping guides:
ACSI
ADAC-Campingguide
DCC e.V.
ECC

Download Information