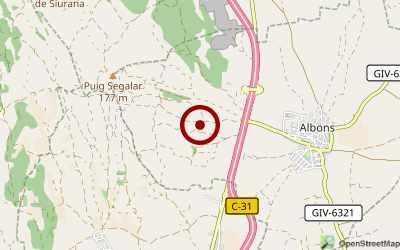 Open from-to: 15.März bis 31.Oktober
Comparison price: 62,80 Euro ( price per night with car, caravan und 2 adults and 1 child in the main season incl. all costs. )
Views (Last 30 days): 66
Description:
First class holidays not only need impeccably looked after surroundings, it's also important to be able to enjoy some peace and quiet, to be in contact with nature, to have fun, to be entertained and to be able to find the best selection and quality of food.
…Your holiday is our number one priority!
The ideal place to unwind in natural surroundings
Situated right next to a fabulous, clean beach.

You'll find all of this in AQUARIUS Campsite:
- Entertainment for youngsters, crèche, parties and discos
- Professional windsurfing, kite-surfing and catamaran centre
- New sanitary unit installations with heating for the cooler months
- Situated in a beautiful area full of cultural interest
- Discounts for OAPs (except in high and mid season)

Surrounding:
Aquarius Campsite is located on the north of the Costa Brava, in the Bay of Roses, next to a fabulous 6-mile-long sandy beach. The combination of the nearby mountains, the plain of the Alt Emporda, together with the sea, form endless beautiful landscape views, not only on the coast, but also inland. As the area has not been over-developed touristically, nature is always close at hand and the rural atmosphere that can be found inland is surprising.
Route:
GPS: N42º10'6 E03º06'5 E 17470 Sant Pere Pescador Exit 3 from Motorway AP-7 direction Roses. At Castello d'Empuries turn right direction Sant Pere Pescador. Drive thru village, after crossing river 2nd exit of roundabout direction beach (platja). follow the signs.
dimension
size: ? ha brutto
Places: 445

Sanitary:
Wash basin (warm&cold)
Toilet
Washing machine
Wastewater for camper
sink unit (cold)
Shower (cold)
wheelchair-accessible
Shower (warm)
Shopping & Restaurants:
Snack Bar
supermarket (large)
Restaurant / Bar
Sports, Gaming & Fitness:
pokies/slot machine
Table tennis
Bike rental
Volleyball
Billard
windsurfing & sailing
childrens playground
Football
Minigolf
Surrounding:
shadowy campsites
subdivided campsites
sunny campsites
directly on the beach/sea
grass soil/floor
quietly situated
sandy beach
General:
disclosure with passport
WLAN-Internet
dogs allowed (additional charge)
Internet access
lighted lanes and streets
Campground guarded
pay phone
card phone
Public phone
Camping guides:
ECC
ECOCAMPING
ACSI
ADAC-Campingguide
Campingcard ACSI
DCC e.V.
accommodation:
bungalow
Caravan
rooms / apartments
mobil home

Download Information