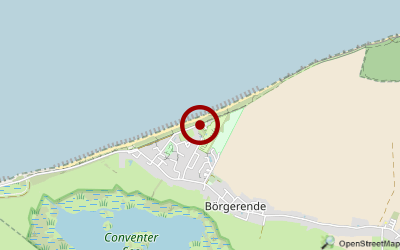 Open from-to: 21.März bis 30.Oktober
Comparison price: 41,00 Euro ( price per night with car, caravan und 2 adults and 1 child in the main season incl. all costs. )
Views (Last 30 days): 22
Description:
Pristine nature, sea and fields determine the pleasant climate. Börgerende is a small fishing village between Warnemünde and Heiligendamm. Here you will find a spaciously laid out square, a true oasis of peace directly on the Baltic Sea.
The modern sanitary facilities offer you the comfort you expect during your holiday. Every pitch is equipped with water, sewage and electricity connections. Some pitches also with SAT connection.
The idyllic surroundings invite you to take long walks or bicycle tours along the Baltic Sea coast. In less than an hour you can reach Warnemünde by bike or in the other direction via Heiligendamm to Kühlungsborn.
In our physiotherapy, your well-being is promoted with expert support.
Use your vacation to do something good for your health.

Surrounding:
Walks by the sea; bicycle tours along the coast or into the picturesque inland; children's entertainment (HS); excursions to Warnemünde, Rostock, Heiligendamm and Kühlungsborn; We recommend: Sauna, solarium, physiotherapy, health holiday a la Sebastian Kneipp
dimension
size: 7 ha brutto
Places: 180

Sanitary:
Shower (warm)
sink unit (hot)
Wash basin (warm&cold)
wheelchair-accessible
Wash basin (cold)
Toilet
Washing machine
Wastewater for camper
Shower (cold)
sink unit (cold)
Shopping & Restaurants:
supermarket (small)
Restaurant / Bar
Sports, Gaming & Fitness:
Bike rental
childrens playground
Minigolf
Table tennis
Volleyball
Surrounding:
subdivided campsites
quietly situated
sunny campsites
directly on the beach/sea
grass soil/floor
General:
lighted lanes and streets
Camping pass enough
Campground guarded
dogs allowed (additional charge)
Internet access
Siesta
WLAN-Internet
Camping guides:
ECOCAMPING
ADAC-Campingguide