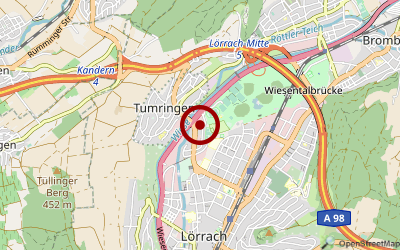 Open from-to: 15.März bis 30.Oktober
Comparison price: 47,10 Euro ( price per night with car, caravan und 2 adults and 1 child in the main season incl. all costs. )
Views (Last 30 days): 58
Description:
Campsite with wireless internet, free hot showers, washing machines, hot plates, electricity, restaurant and much more.

You will automatically receive a guest card with which you can use the bus and train for free. Also to Freiburg im Breisgau, in the Black Forest and to Basel.

Rental of camping barrels for 1-4 people.
RV park open 365 days.
Surrounding:
Right in the border triangle - on the edge of the Black Forest and almost directly on the border with France and Switzerland. You can even cycle to Basel (30 min. without inclines).
Route:
Close to the motorway at the border to Switzerland and France.
dimension
size: 29900 ha brutto
Places: 177
Places accomodation: -



Sanitary:
wheelchair-accessible
Shower (warm)
Wash basin (warm&cold)
Toilet
Washing machine
Wastewater for camper
sink unit (hot)
Shower (cold)
Shopping & Restaurants:
supermarket (large)
Snack Bar
Pizzeria
Restaurant / Bar
Sports, Gaming & Fitness:
childrens playground
Minigolf
Tennis
Table tennis
Volleyball
Football
Golf
Surrounding:
shadowy campsites
sunny campsites
soft soil/floor
centrally located
grass soil/floor
quietly situated
General:
Internet access
Siesta
pay phone
Public phone
lighted lanes and streets
WLAN-Internet
Campground guarded
dogs allowed (additional charge)